Testimonials
Testimonials
Even though Taormina Weddings started up in 2015, we are in no ways new to wedding and event organization. Mariangela, our project manager has organized about 1000 evens in Taormina, of which at least 700 being weddings.
Below are some reviews from couples that have found out about our new venture and been so kind as to write some lines about their experience with Mariangela as their wedding planner.
Mckenzie & Jonathan - 13 March 2019 - Usa & India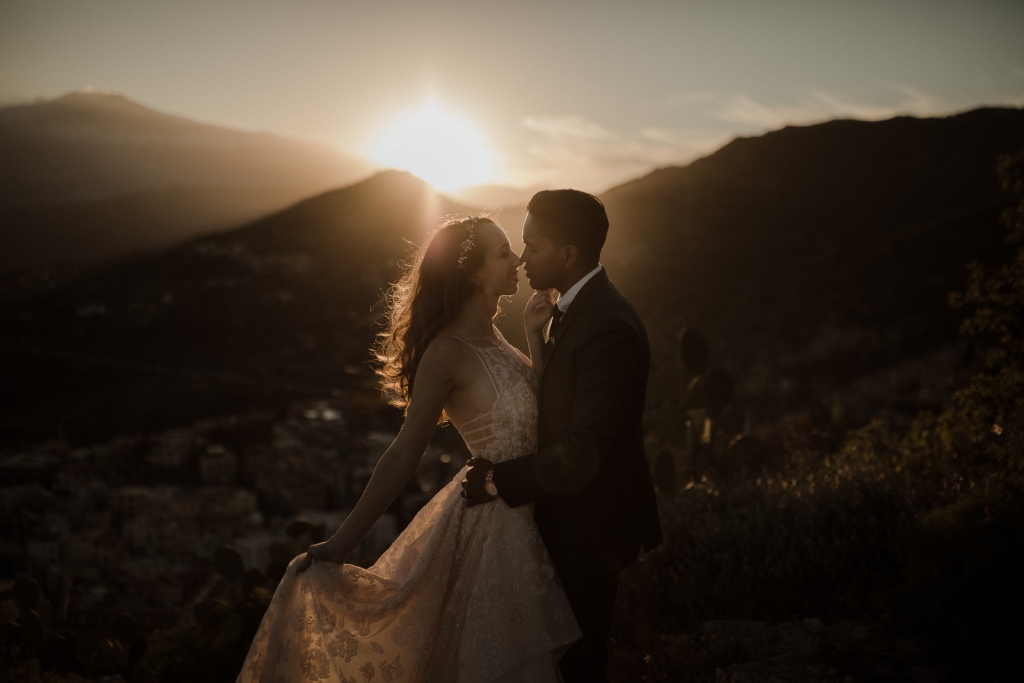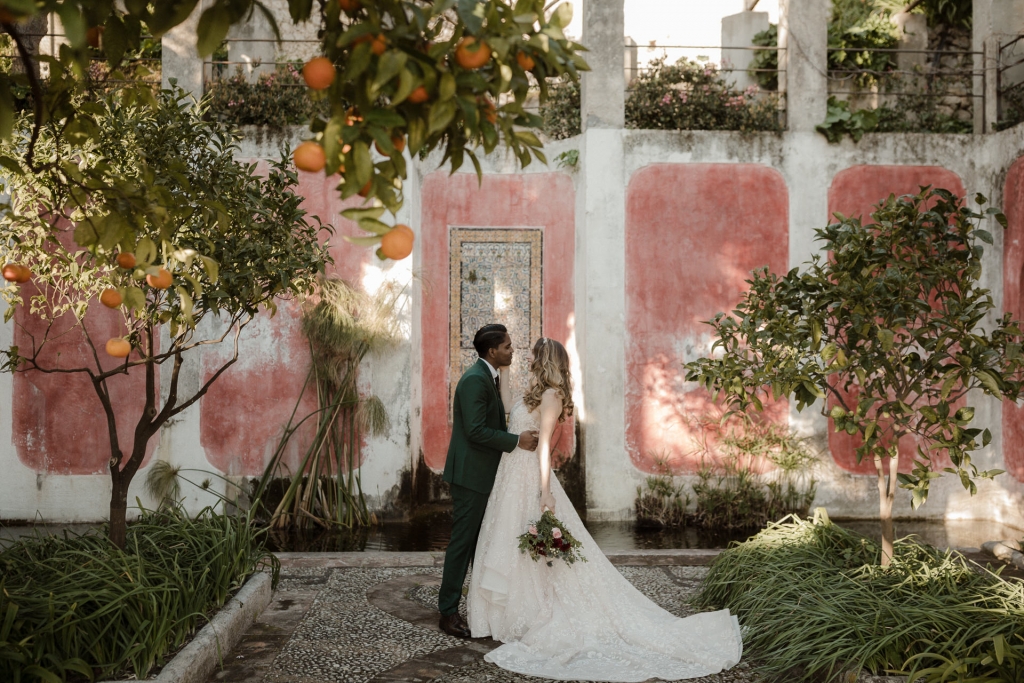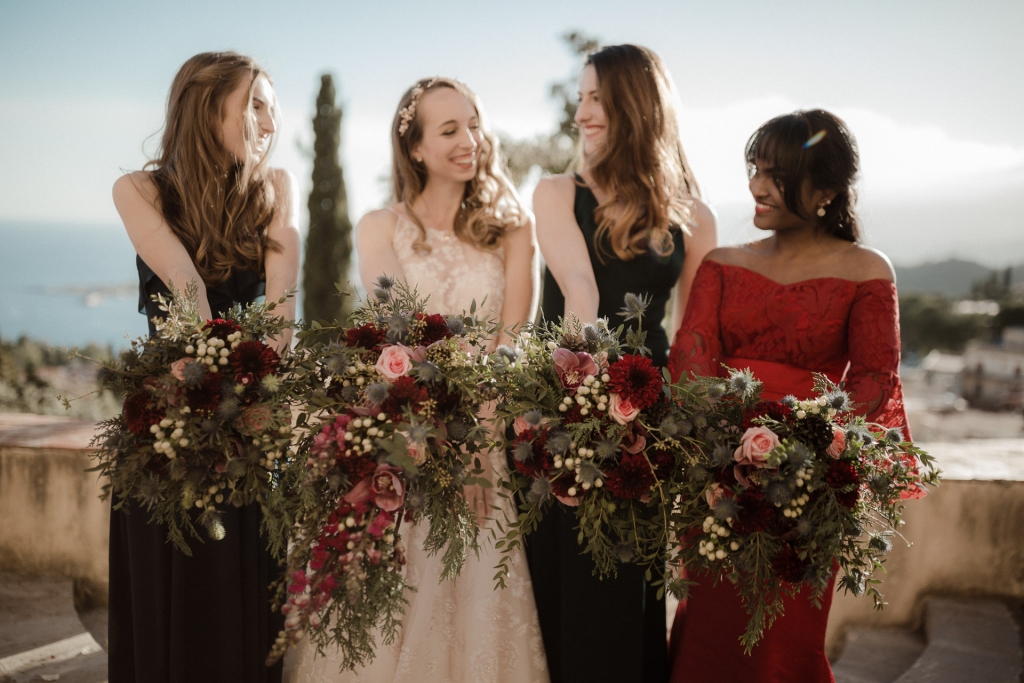 Photo Credit: Andrea & Federica (https://www.andreatappo.com/)
Our destination cross-cultural american/indian wedding in Taormina was PERFECT. Mariangela was such an excellent planner and communicator. She helped me organize everything I needed to accommodate my guests and family members, who were coming from India and America. She treated us like a good friend and connected us with all the best vendors. Our wedding day was so amazing and dreamy. I could not recommend Mariangela highly enough. She did an incredible job with a smile on her face always!😄
Deanna & Nic - 26 September 2018 - Australia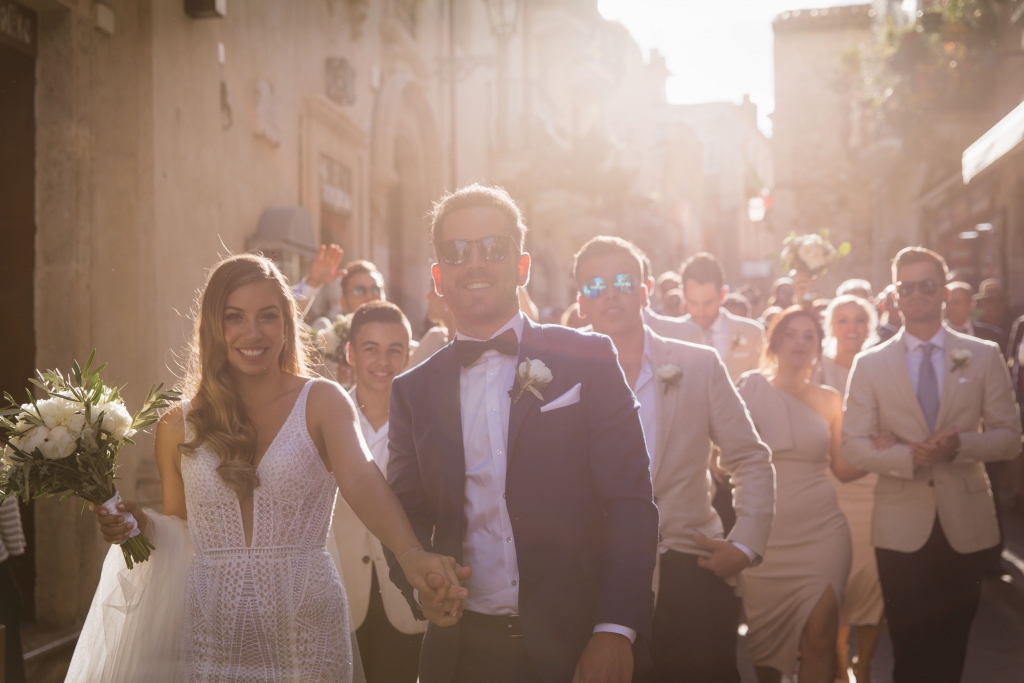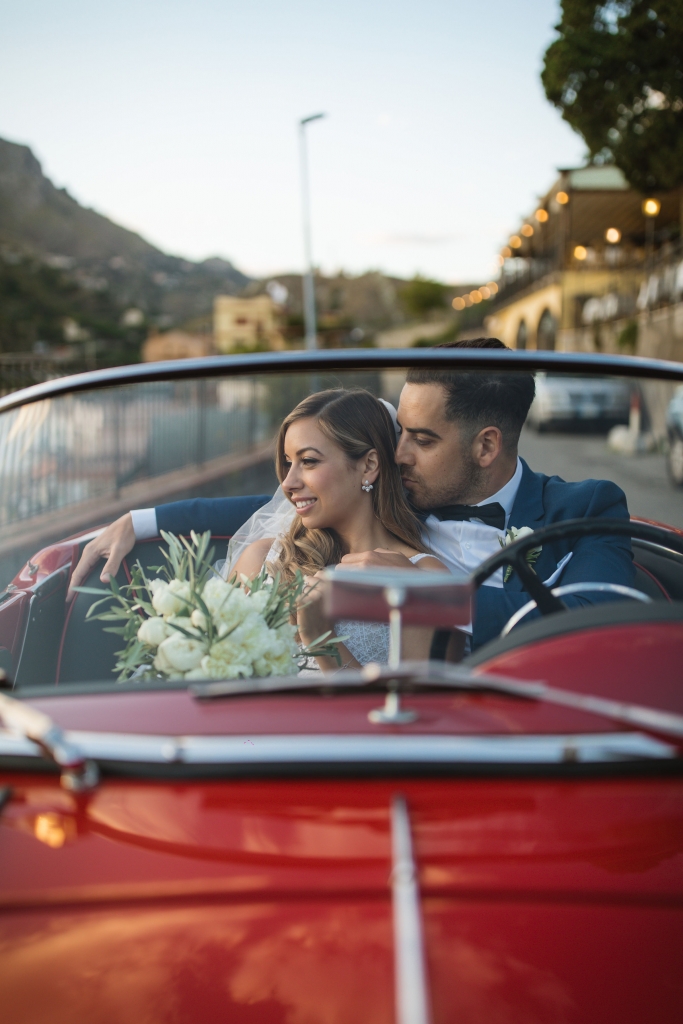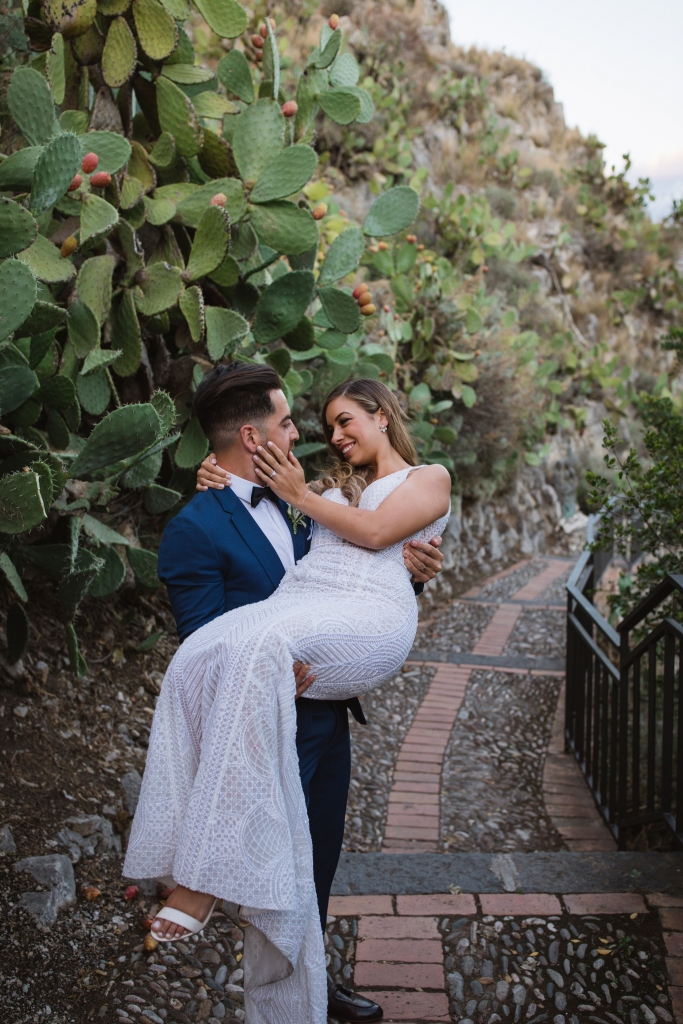 Photo Credit: I Do Cinema (http://www.idocinema.com.au/)
We got married in Taormina in September 2018. This was the best day of our life and wouldn't have run so smoothly without Mariangela Spinella. I can not recommend her services more! She is the ultimate professional and wedding specialist. She will hold your hand as much as you need when planning a wedding or similar event in Taormina and help organise all the details that with out her would be impossible to consider.
On the day of the wedding everything ran so smoothly and this was largely due to Mariangela's, planning and experience and her passion for her job.
If you are considering getting married in Taormina, you need Mariangela on your team!
Regards
Nic Saraceni
Epak & Joe - 01 September 2018 - Canada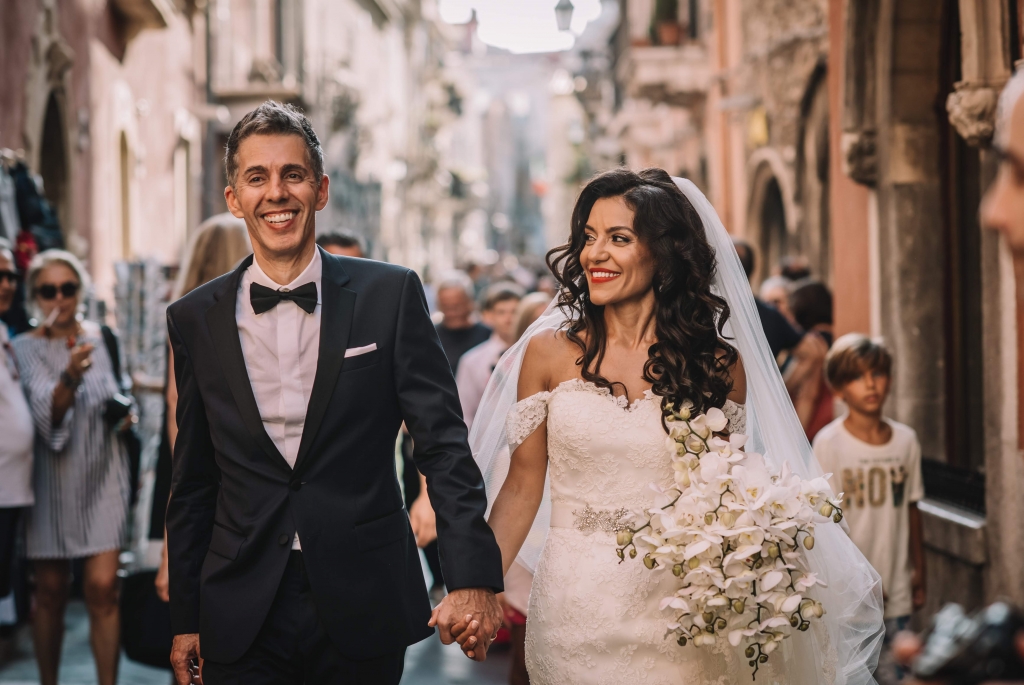 Photo Credit: Rosita Lipari (https://www.primopianophotografica.com/)
We are extremely pleased with Mariangela's services. The wedding she planned for us exceeded our expectations. Her recommendations were very tasteful and reasonably priced, and all of the events (the pre-wedding dinner, the wedding ceremonies and the reception) were meticulously arranged. Most importantly, she spent countless hours communicating with us either through email, video-conferences or in-person. We arrived in Taormina several days before the wedding and she spent almost all of those days with us making sure final arrangements were in place, despite the fact her father was ill in the hospital. Mariangela is very talented and we are extremely grateful to her!
Epak & Joe
Ketty & Tom - 7 July 2018 - UK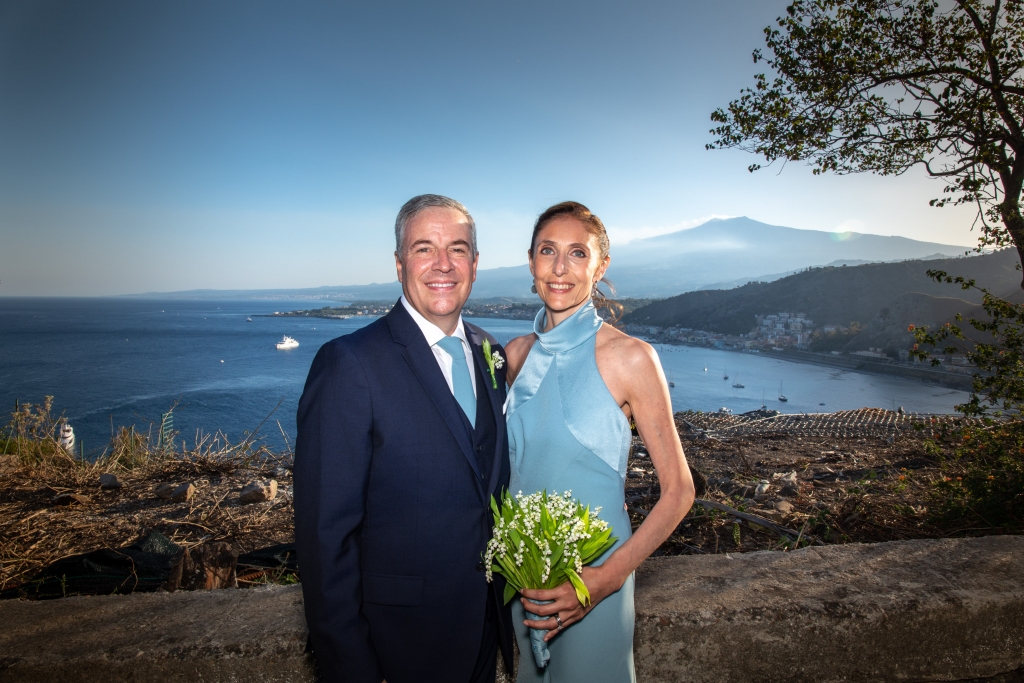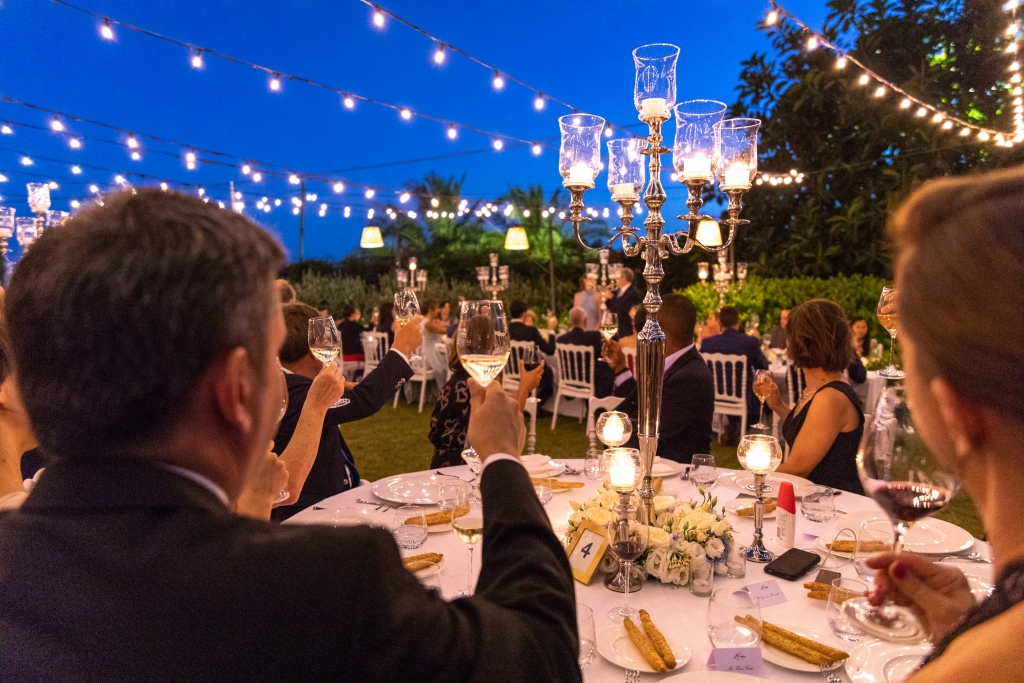 Photo Credit: Giuseppe La Spada (https://art.giuseppelaspada.com/)
First, let us say that if you are considering getting married and/or celebrating your nuptials in Taormina, do it! It is a beautiful and magical place that is hard to beat for its scenery, food, people, venues, etc. – all that you would want to celebrate your special day.
Secondly, if you are looking for consummate professional to help you land your big event and are in need of a top-flight wedding consultant in Taormina, look no further than Taormina Weddings and the wonderfully resourceful Mariangela! You will not go wrong!
In our case, Mariangela worked tirelessly on our behalf to create a moment in our lives that we will never forget. While my beautiful bride is from Sicily (I'm an Americano) we live in London so planning a big event with more than 100 invited guests from four continents was not something we were in a position to manage ourselves (especially as we had a baby just 5months prior to our event).
We benefitted tremendously from Mariangela's experience, wide-ranging local connections (she knows everyone & everyone knows her!), excellent organizational skills, an ability to multi-task second to none, along with her linguistic skills. She was able to operate in either Italian or English as evidenced by her simultaneous translation skills which really came in handy for us.
Finally, in the middle of the chaos and stress of a destination wedding, Mariangela's uncommon poise and calm was a such a valuable asset. As my wife says, with Mariangela, "nothing is impossible" (or niente e' impossibile)!
Grazie Taormina Weddings! Grazie Mariangela!
Rosa & Daniele - 18 July 2018 - USA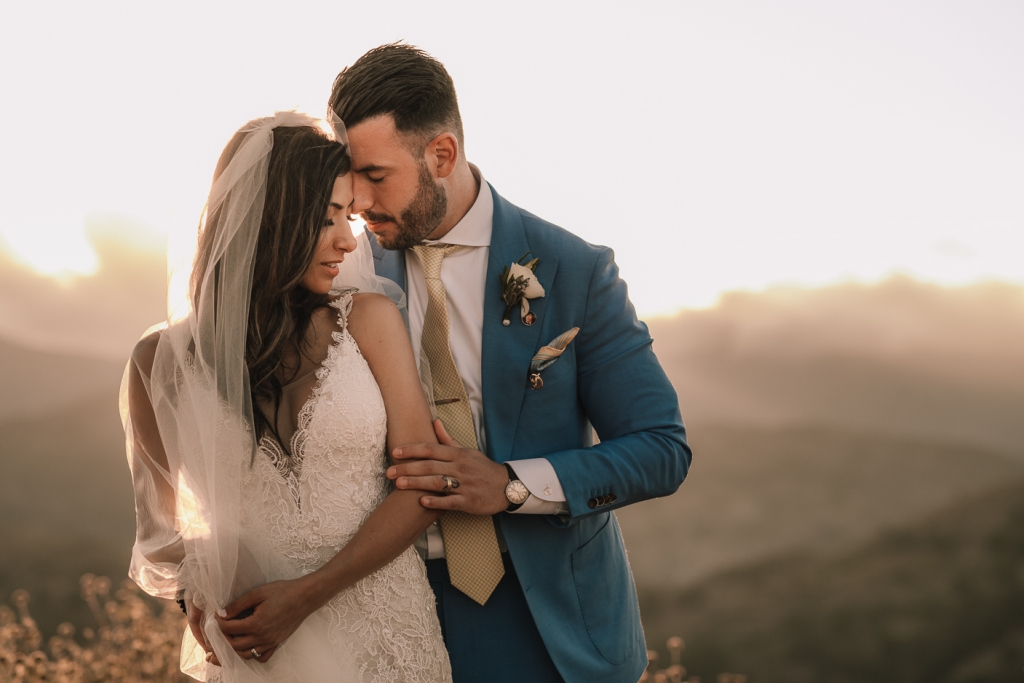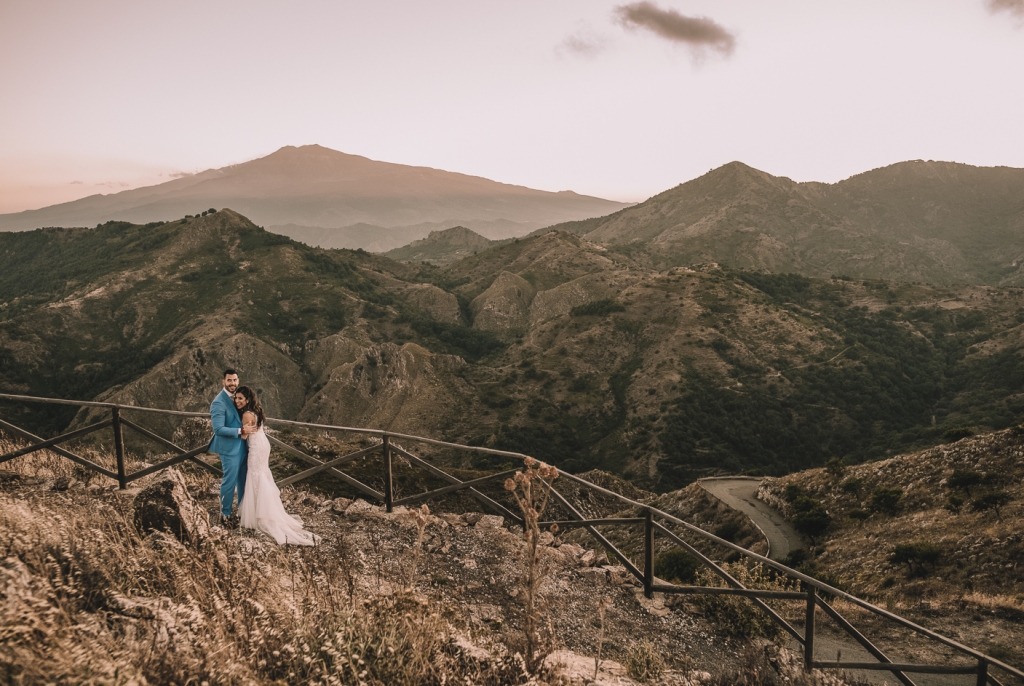 Photo Credit: Rosita Lipari (https://www.primopianophotografica.com/)
Before I begin, I must paint a picture of how our wedding came to fruition and how Mariangela made all of our dreams come true. In August 2017, it was the very first time my husband had been to Sicily. We were only dating at the time, and we knew the entire trip would be special. We spent the first 3 days in my dad's town with family and we had such a great time. I thought it would be hard to top the joy I felt showing off Calatafimi-Segesta to him, but I was very I wrong. On the night of the feast of San Filippo in my husband's town, unbeknownst to me, he proposed, under a beautiful and dramatic firework show. I was completely wrong, and our vacation had now JUST begun. When we came home, we knew we wanted to get married in Sicily, and relive the excitement and intimacy of our engagement. We had this wild idea to get married in the smallest commune in Sicily, Roccafiorita. It is a 10 minute drive from Limina, and it is the town where my mother in law was born and raised. Our dream was to have a small village wedding that would allow the entire town to partake in the festivities. I had been following Taormina Weddings on Facebook, and I figured, Taormina isn't too far, let's see if this would even be possible. Mariangela brought our dreams to life!!!
I know this was not an easy task. We wanted to support all the local businesses in the town, and she was able to arrange the ONE local restaurant to cater the food and the ONE local bar to be a part of the celebration by allowing the guests to come in and get served at the bar. This has never been done before. Our cocktail hour was in the caves of the town with fireworks and a live Sicilian folk band. Our reception was in the town square. Mariangela was able to turn the piazza and the town into the most gorgeous venue. I remember closing my eyes every now and again throughout that night on July 18, 2018, and I was trying to retain every memory, every feeling, every goose-bump of that unbelievable night. She completely blew us away and turned our dreams into a reality. It will forever be our favorite day.
If we could get married every year and have Mariangela coordinate the whole thing, we would. From her organization of the Welcome dinner, the Ceremony, the Reception and every detail in between, to her communication and most importantly her kindness and friendship, Mariangela will always hold a very special place in our hearts.
Rosa & Daniele
Jill & Aaron - 16 June 2018 - USA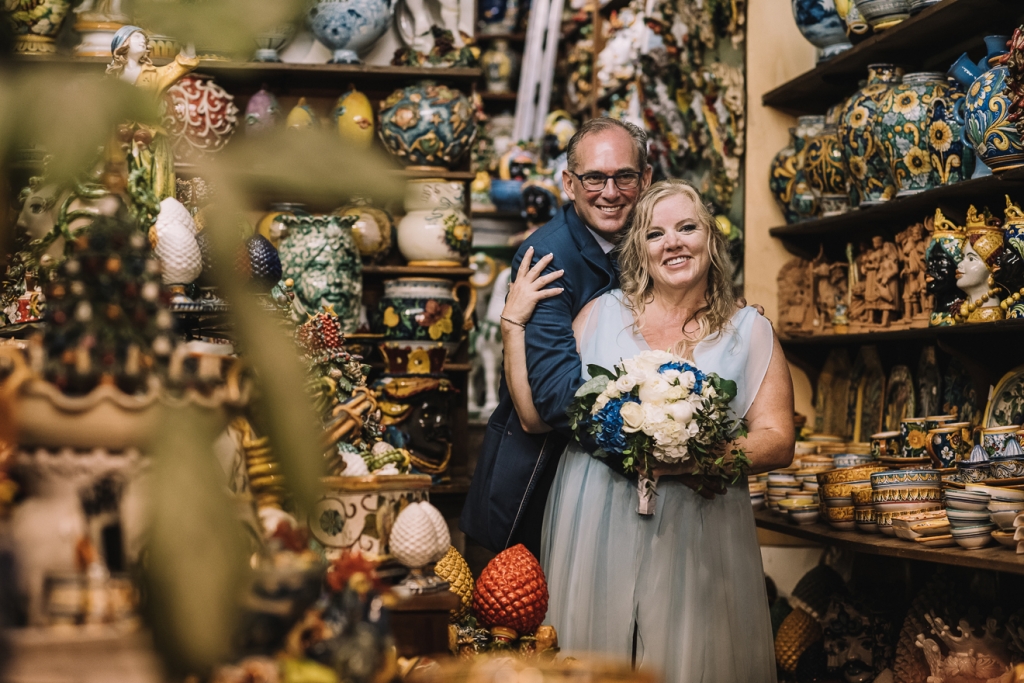 Photo Credit: Rosita Lipari (https://www.primopianophotografica.com/)
Planning a wedding is hard enough, planning destination wedding takes it to a whole new level. When we started thinking of a destination wedding we came up with a list of places, but none of them seemed right. This being both our second wedding we wanted something for us, not a place we had been before. So we picked Taormina. We had never been to Sicily much less Taormina. We also had no plans on going there before our wedding, so we knew we needed an exceptional wedding planner to help us plan this event.
We found Taormina Weddings just by doing a search on the internet. We liked what we saw, read the reviews and thought… Let's go for it! I'm so glad we did! Mariangela guided us through this journey step by step. I could tell from our first FaceTime call that we picked the right person for our special day.
Mariangela kept us informed of everything we needed to know, she also planned a couple of pre wedding events which were perfect for us and our guests. We couldn't have been happier about our wine and pizza night and our guests are still sharing pictures and stories of those events.
When we first spoke to Mariangela about how many guests we would have we thought we would be lucky to have 30 people. California to Sicily is a long way and we never thought we would end up having 80 friends and family able to make our event. Mariangela worked with those ever growing numbers with ease. She handled every detail of our special day with professionalism and class. She offered help where we needed it and took care of all of our special requests. From fireworks to wedding favors our wedding was amazing. Our friends and family had an amazing time and as so many said, it was a wedding they would not soon forget.
Thank you Mariangela for our wonderful, magical special day. I can't even put into words how amazing everything was. Truly, you impressed us all.
Jill and Aaron
Suzy & Chris - 21 May 2018 - USA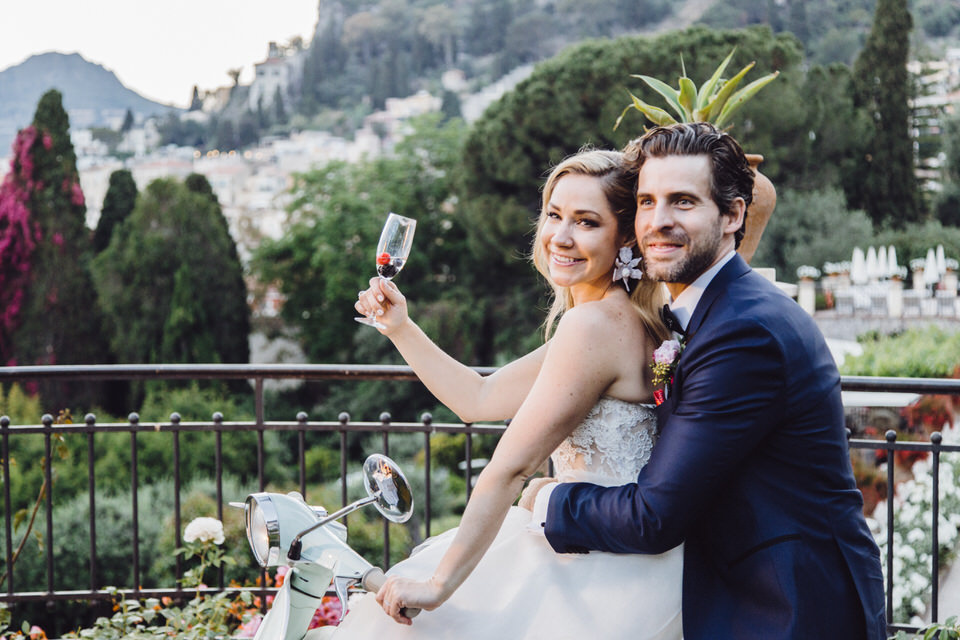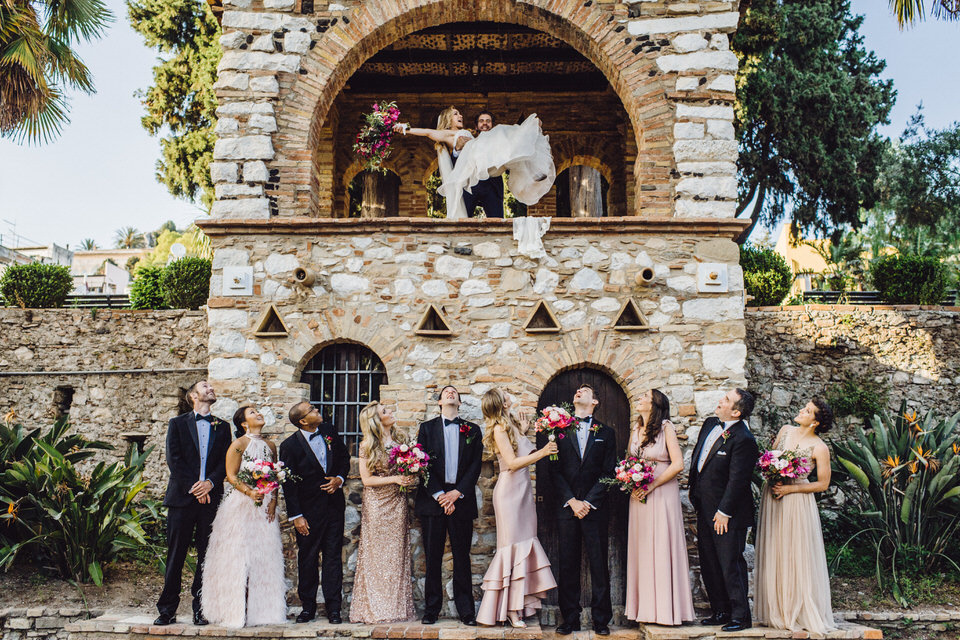 Photo Credit: Gianmarco Vetrano (http://www.gianmarcovetrano.it/)
I am so incredibly grateful to have met Mariangela. She very simply made all of our wedding aspirations come true and she will always hold a very special place in our hearts. She is warm, kind, creative and made the lead up to our big celebration a delight. We had only 3 days to physically see all the venues, select food, meet with hair and make-up and Mariangela effortlessly made it all happen. Planning a wedding from afar is challenging (not to mention with language barriers) but Mariangela was in near constant communication with us during the months leading up to the celebration. She was incredibly generous with her time and recommendations. We iterated on ideas often to distill the weekend down to a truly unique set of events.
What became very clear from the beginning of the process is that Mariangela is well respected and loved across Taormina (there is not a single place we went to where Mariangela was not hailed as "the BEST" and I think that was a driving force in us receiving the most competitive pricing and exceptional service. It's clear that service providers want to provide a high standard of experience with her and when everyone aspires to exceed expectations, the end result is a thing of magic.
We wanted to do something original for our rehearsal dinner (a Roman style banquet overlooking the sea, all guests dressed in white). And she transformed our vision into a reality. She sought out stage props from the Greek Amphitheater production company and even convinced the staff of the venue to wear togas to serve us in. They were hesitant to do so at first, but it very clearly made all the difference in creating the perfect playful ambience. I indicated to her that music and theatre was an important element to our celebration and she sought out entertainers from all over Italy to bring a unique experience for us and our guests. We had a choreographed dance piece to my favorite song, a harpist, an opera singer, even a display of dancers in giant bubbles on the ocean. These weren't options I even knew were possible to have at a wedding. Her creativity and willingness to bring concepts to life made a huge impact in ensuring a wedding unlike any our guests had previously enjoyed. I get emotional thinking about how memorable and personal so much of our wedding weekend was.
I can't stress enough how wonderful, creative, reasonable and responsive Mariangela is (at all hours of the days/ nights which was an important criteria for me). I consider her not just our wedding planner, but a personal friend and that level of personal commitment made our weekend all the more memorable.
Do not bother looking anywhere else, no one will compare!
– Suzy & Chris May 2018
Yvette & Blake - 20 September 2017 - UK, Australia, New Zeland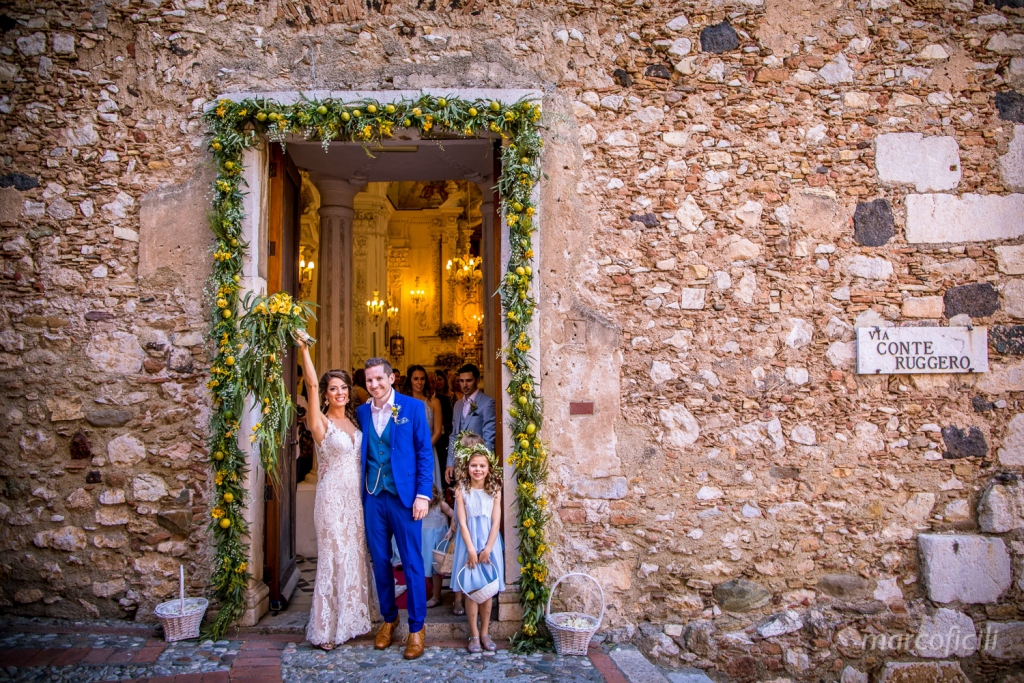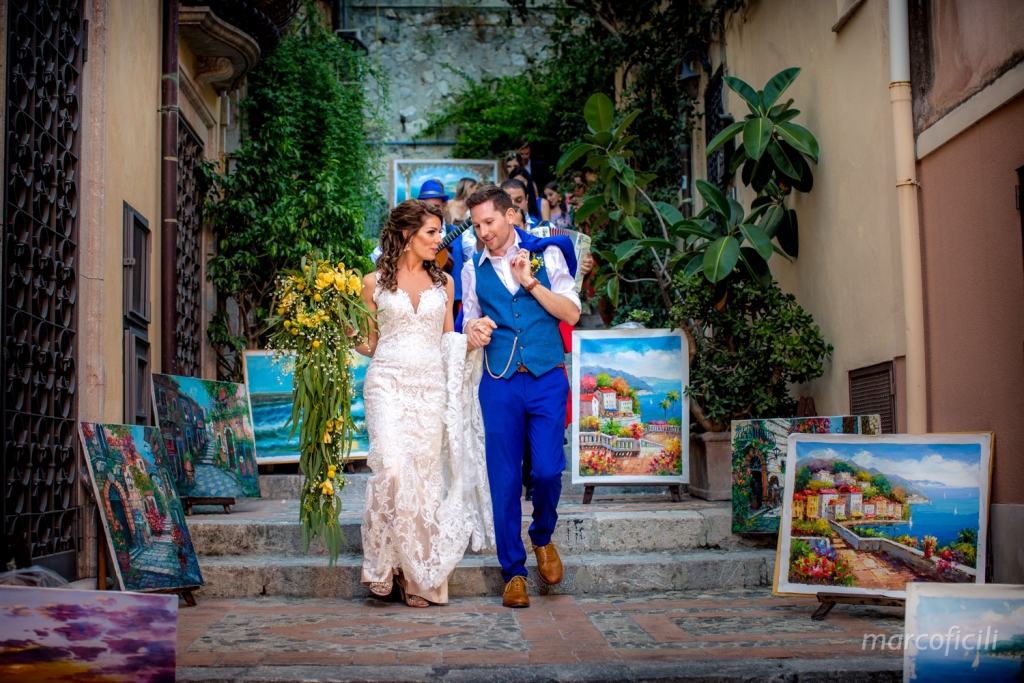 Photo Credit: Marco Ficili (https://www.marcoficili.it/)
Mariangela, Thank you so much! You made our wedding day just perfect, thank you so much for always being at the end of the phone/email/whatsapp at all times. It's not easy planning a wedding in a different country which speaks a different language but having someone like you who knows the area and all the best suppliers makes planning a wedding a dream! The day couldn't have ran any better and that comes down to all your planning! Looking forward to catching up next time you are in London or when we are back in Sicily!
Blake & Yvette Henderson
Alyssa & Michael - 14 September 2017 - USA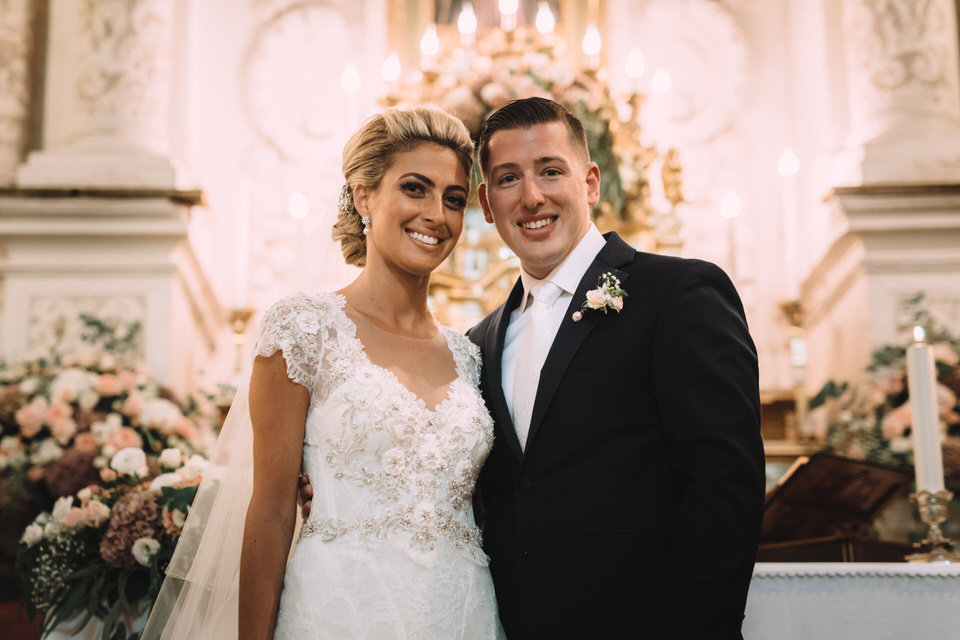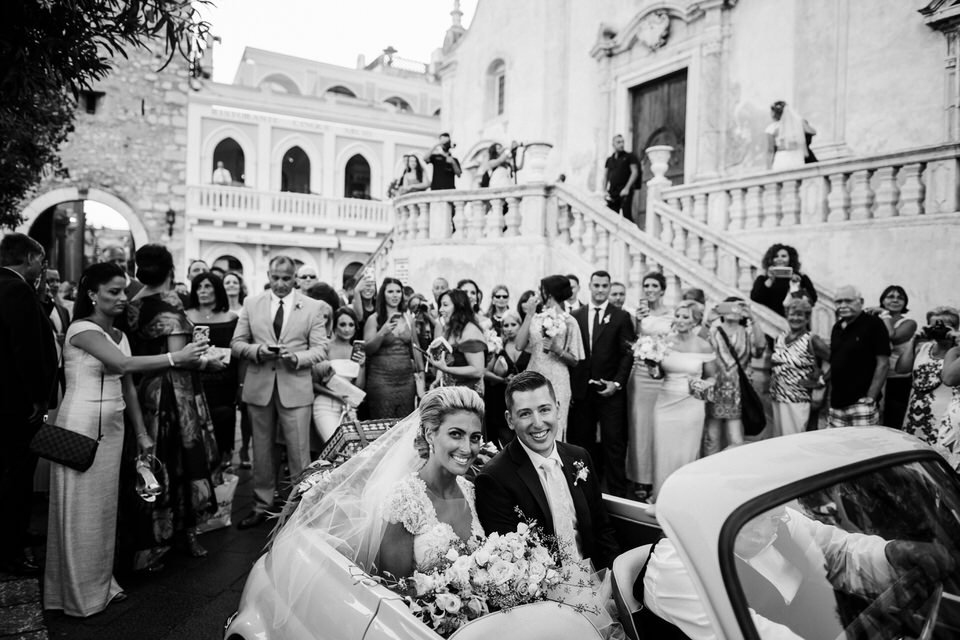 Photo Credit: Gianmarco Vetrano (http://www.gianmarcovetrano.it/)
Our dream wedding came to life because of Mariangela! It is difficult to put into words how kind and caring she is all the while remaining professional and personal at the same time. Her communication was easy and comfortable, making us feel like we had known her for years. Her responses were always immediate, a true joy to work with. She made us feel important throughout the planning providing us with many options for everything and anything you could think of. From venues to photographers, florists and music options her suggestions were always perfect! Our visit to Taormina the year prior to our wedding was filled with more planning and meetings with vendors, none of which would have been possible without her! She dedicated many hours to meeting and helping us during our visit and you could easily see how everyone she worked with respected her. Her attention to detail truly made our day feel like a fairy tail; a magical and unforgettable celebration that we will cherish forever. Not only did she help us create the perfect wedding day, she helped us make our guests feel even more special for traveling all the way from New York in planning a beautiful welcome celebration the night before. Thank you so very much for all of your hard work, dedication, support, and enthusiasm in creating a wedding that was everything we could have dreamed of and more!! We feel so lucky and grateful that you have been such a big part in the most important day of our lives! For that you will always hold a special place in our hearts.
Love Always,
Alyssa and Michael
Aga & Jimmy - 20 July 2017 - UK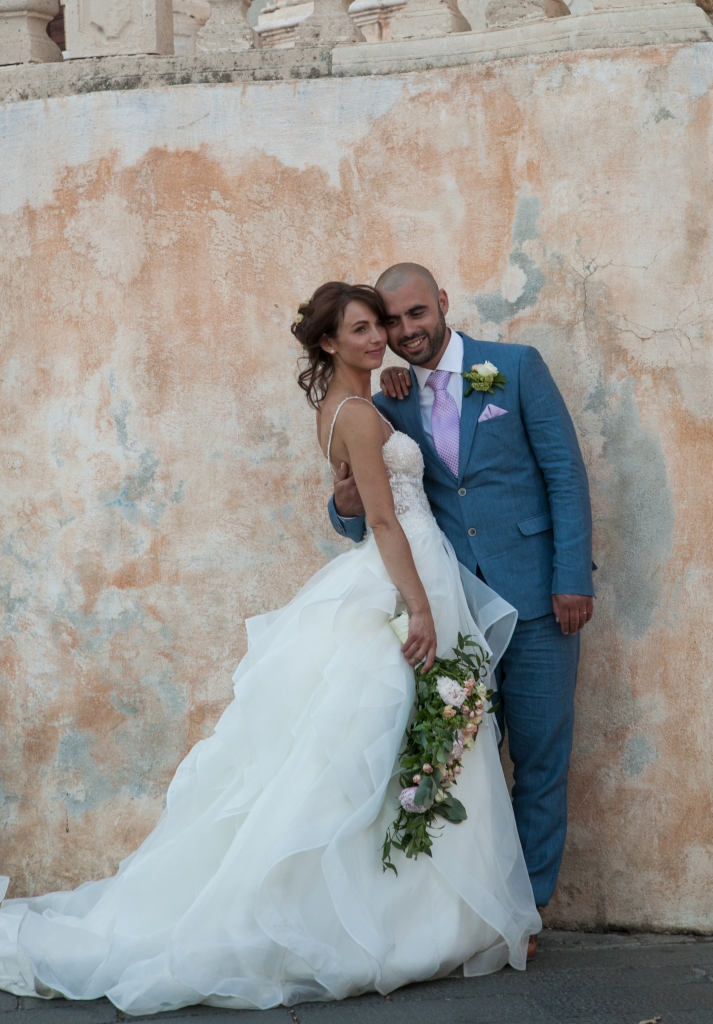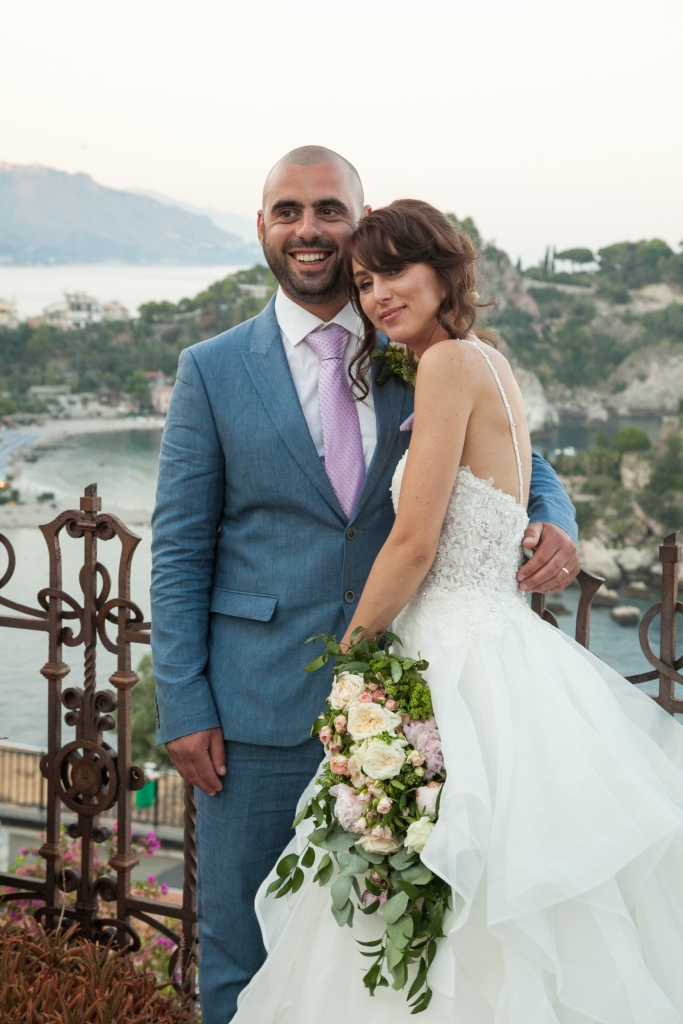 Photo Credit: Ami Elsius (http://www.weddingandportraitphotography.com/)
Our beautiful story: Myself and my partner were looking for a destination wedding agency in Taormina to organise our special day in Sicily. I accidentally googled and bumped onto Taormina Weddings and thanks god :). The response from Mariangela was immediate and we did go through loads of different options for venues, hairstylist & make up artist, florist, photographer and even a violinist! The communication was smooth and easy without any delays in response and very professional. We arrived in Taormina few days prior to our wedding day to meet Mariangela at our wedding venue 'Villa Comunale' where we finalised all small details timings around the wedding day. Our wedding day was absolutely amazing and we really loved everything!!! The beautiful venue 'Villa Comunale', Ami – who was the nicest photographer ever, the hairstylist, the violinist, the restaurant – Villa Antonio and last but not least Mariangela!!! Thank you so so much for your hard work, passion and enthusiasm and making our wedding day so special and unforgettable! We feel incredibly lucky to have met you! You will always stay loved and remembered in our hearts. Thank you xxx
Loads of love,
Jimmy & Aga
Candice & Vincent - 13 July 2017 - Australia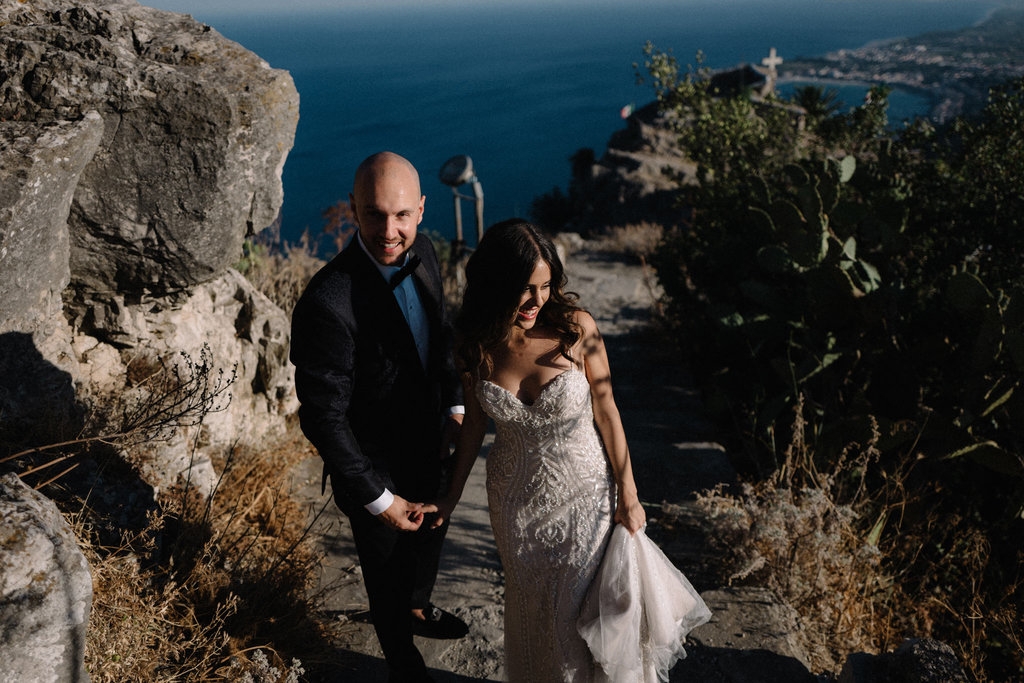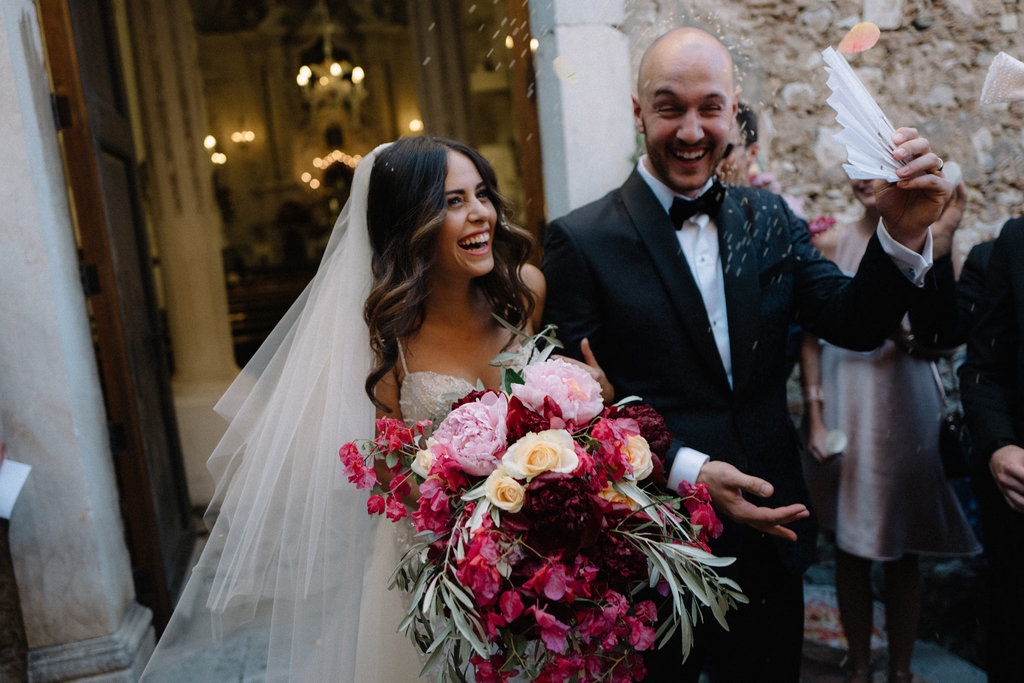 Photo Credit: Giuseppe Marano (http://maranovisionart.com/)
Mariangela I just wanted to say again how truely amazing you are! Our wedding was everything we had imagined and more. We were absolutely blown away by the entire day, from the ceremony to the amazing venue. Your attention to details and requests I had made were so well executed. The entire day ran so smoothly and your assistance in smoothing out any small hiccups on the day were done swiftly and without fuss, so thankyou so much for helping bring our vision to life, we only wish we could re-live the day all over again.
I will miss seeing your name pop up on my emails and WhatsApp! I hope to see you again in Sicily next year.
Megan & Zack - 19 March 2017 - USA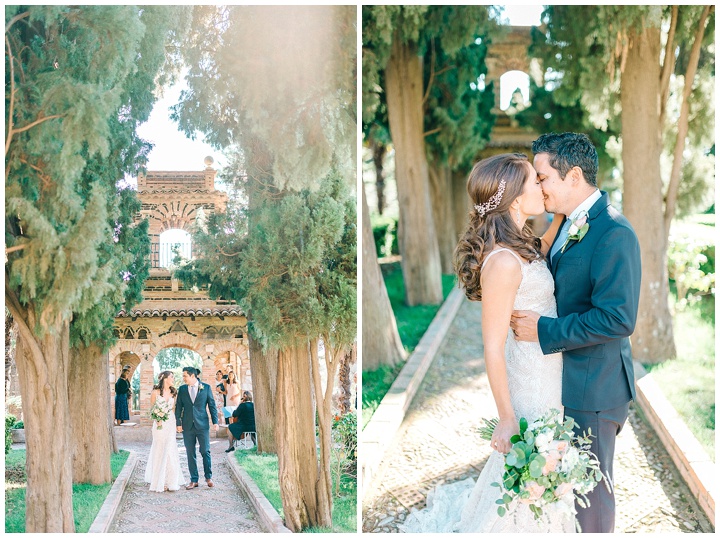 Photo Credit: Sarah Jane Ethan (https://sarahjaneethan.co.uk/)
Mariangela, my destination wedding was everything I could have imagined and more because of your support. Your attention to detail, responsiveness to my needs (and emails!), helpful suggestions, connection (and ability to translate for me!) to the best vendors, and (most importantly) your kind, big heart made you an ABSOLUTE JOY to work with before, during and after the wedding! And it was not just me you left an impression on- our whole family was so impressed and grateful for your support!
If you are considering getting married in Sicily- you really must work with Mariangela. I really had no idea how much help I would need for a destination wedding, and now having had our wonderful wedding, there is no doubt in my mind Mariangela's support was a must!
Thank you Mariangela! I hope you continue to feel the love and appreciation from your California friends! Love, Megan
Christina & Christian - 29 July 2016 - UK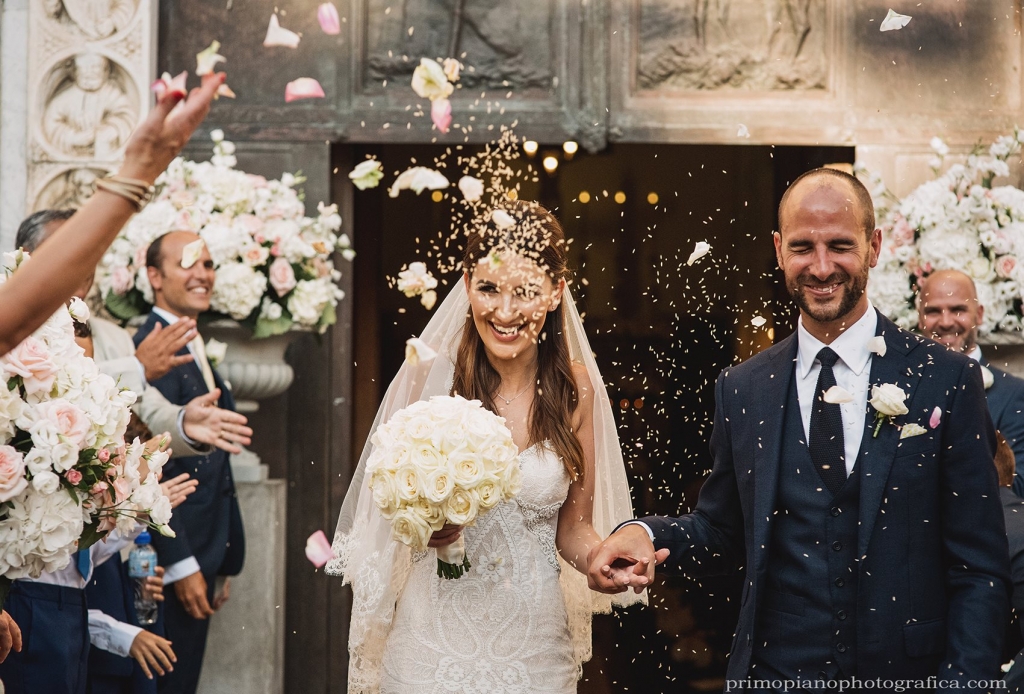 Photo Credit: Rosita Lipari (https://www.primopianophotografica.com/)
"Ciao Mariangela
How are you? We miss you!
On behalf of myself, Christian, and my parents, thank you so much for enabling Christian and I to have the wedding of our dreams. We had the most amazing day and couldn't have wished for anything better, it was perfect in every way. Everyone is still talking about it, it was like something they had never seen before – truly magical! It really was the best day of our lives!
All the details that you organised were perfect…
The wedding car was gorgeous and so appropriate for our style of wedding.
The soprano in the church was outstanding, we were all amazed by her beautiful voice. She did such an amazing job and is truly talented to have learnt an English hymn in just a few weeks and sing it perfectly.
The string quartet and organist played beautifully together and it created a very special and symbolic atmosphere in the church.
The folk band leading our guests from the square to the hotel brought the Sicilian charm and character that we wanted.
The pianist and double bass playing in the background gave our dinner elegance.
The flowers and décor were absolutely stunning!!! Your patience when we visited the florist was invaluable. With your help translating, the florist knew exactly what we wanted and the flowers exceeded all our expectations. They were the best flowers we have ever seen, just incredible!
The paperwork to legalise our marriage, we wouldn't have known where to start without your help.
The order of service for the church, your constant communication with the priest played a big part in making the service faultless.
The rehearsal the day before in the church meant that our big day ran completely smoothly.
Our day was flawless and we felt completely relaxed with you in charge. Every single aspect of the wedding was exceptional. It has been an absolute delight dealing with you, you made our wedding planning a wonderful experience. You have been extremely professional and very thoughtful and thorough in everything you have done. We know you went above and beyond on our day and for that we are truly grateful. To say thank you for your outstanding efforts, we would like to promote you in any way that we can. Please tell us exactly what you would like us to do and it would be our pleasure.
We would like to think that even though our wedding is over, we have gained a friend in you.
Warm regards
Christina and Christian
Jasmine & Homan - 16 July 2016 - Sweden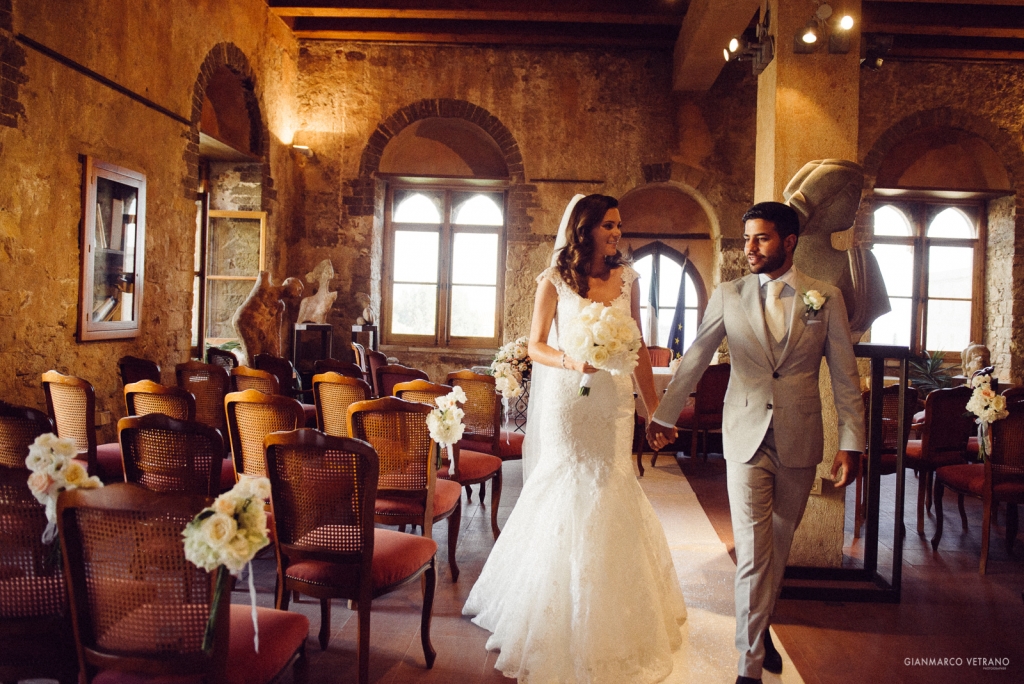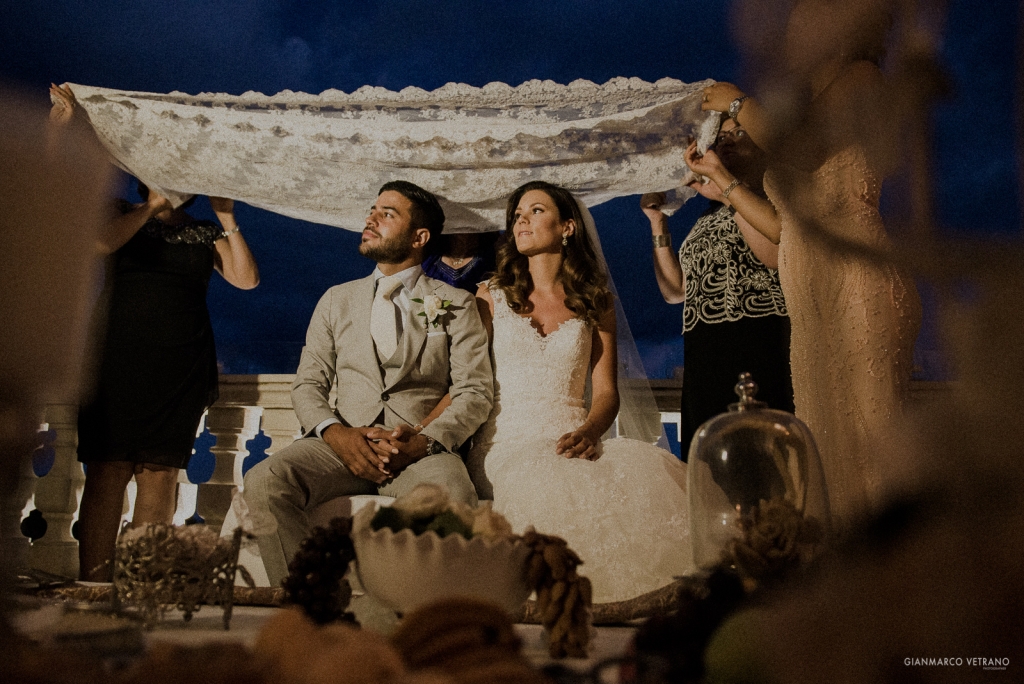 Photo credit: Gianmarco Vetrano (http://www.gianmarcovetrano.it/)
Mariangela is the best! I would truly recommend her, she does her work not only with a lot of will but also with a big heart. ❤️❤️❤️
Adelina & Armando - 02 July 2016 - Colombia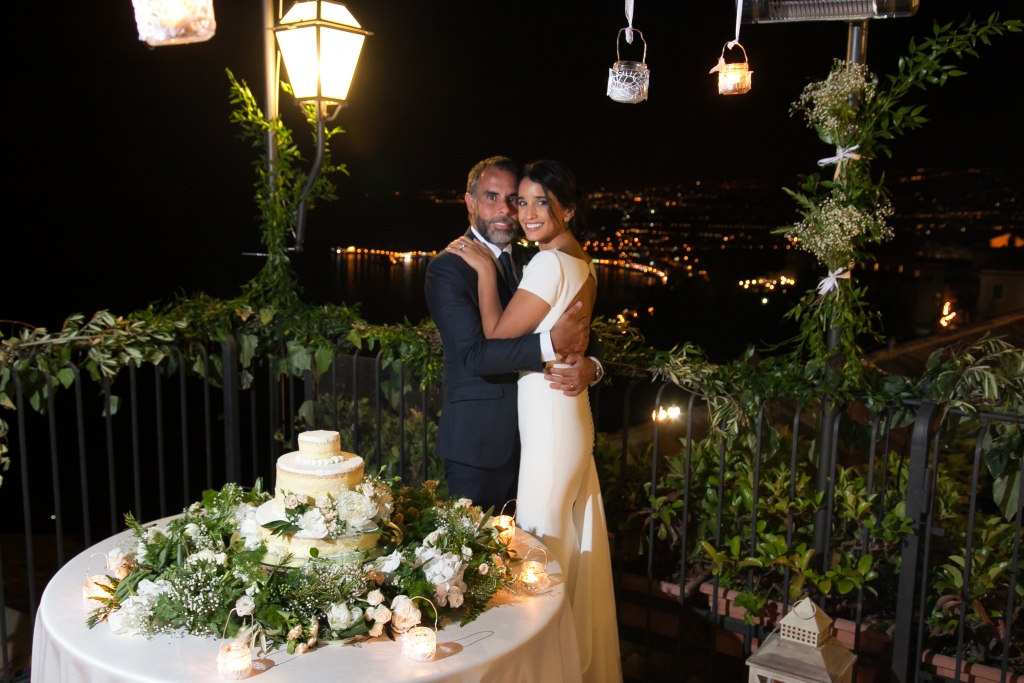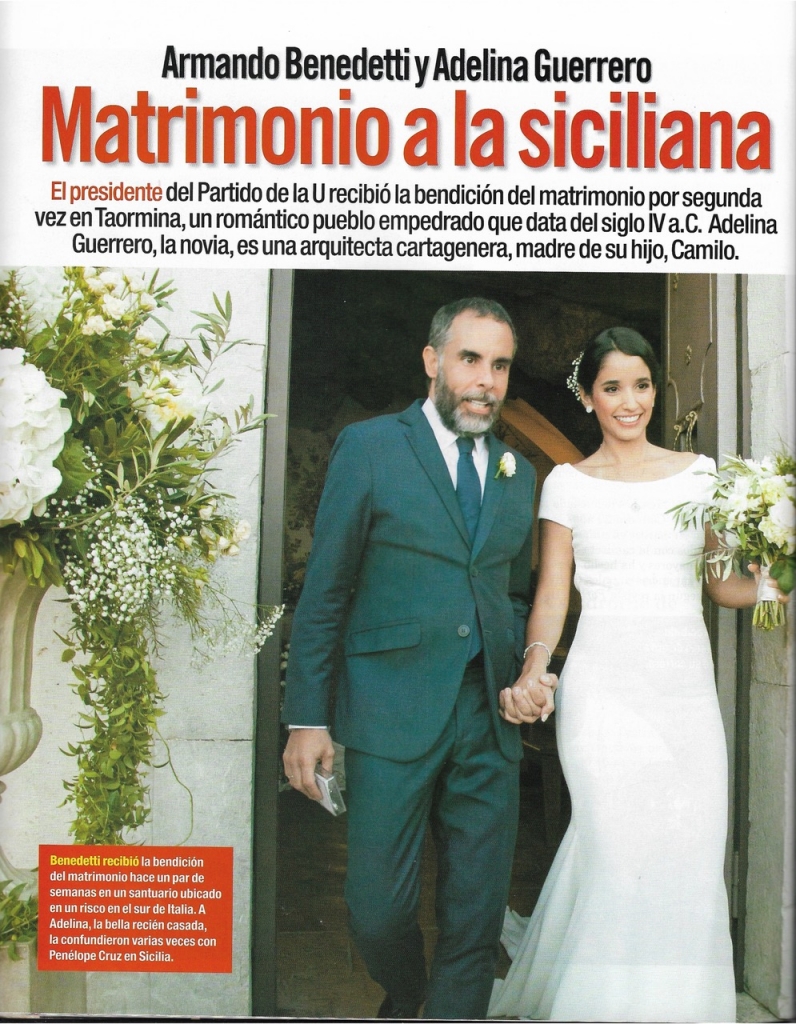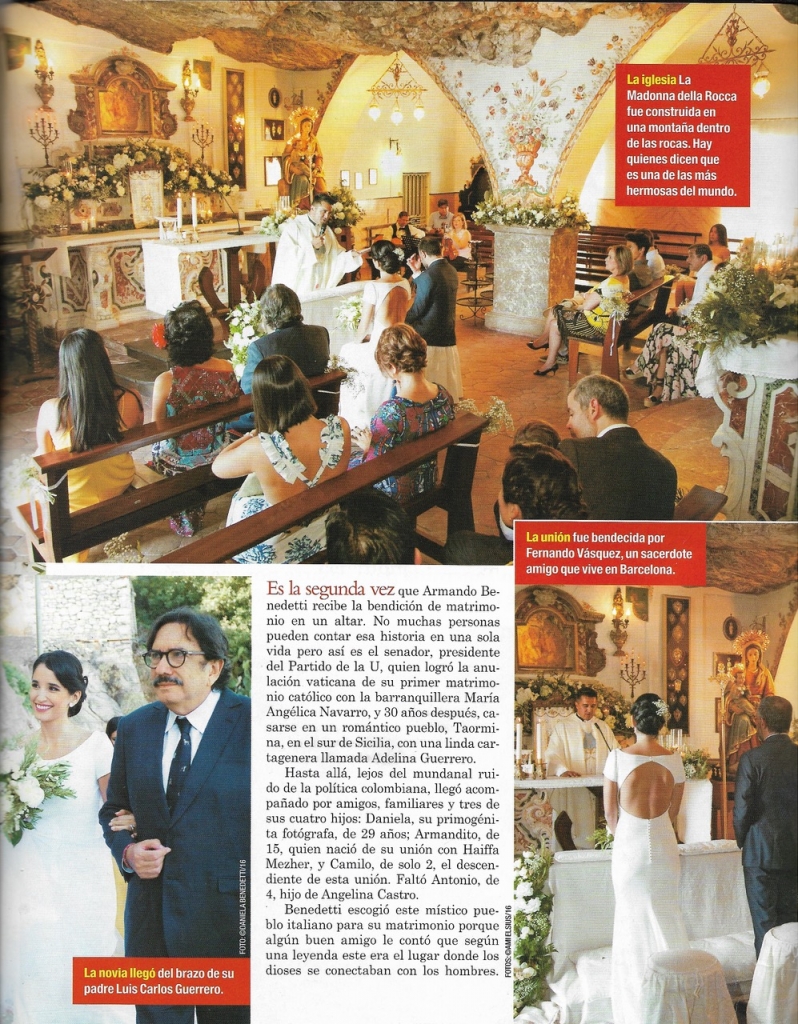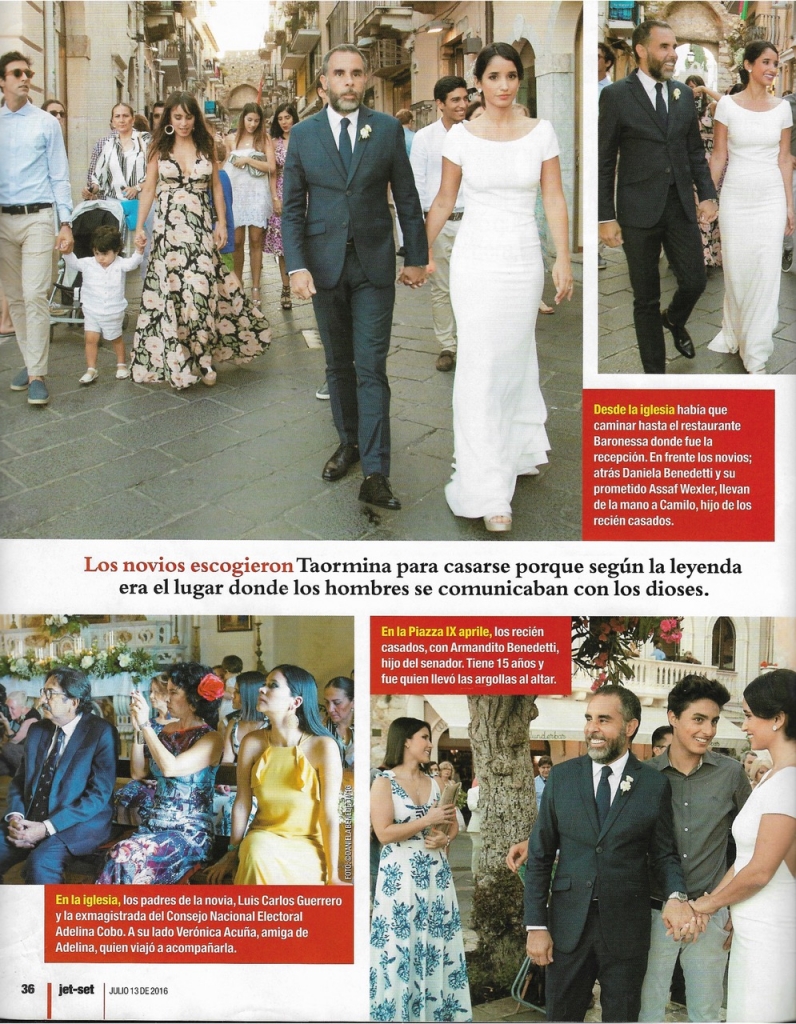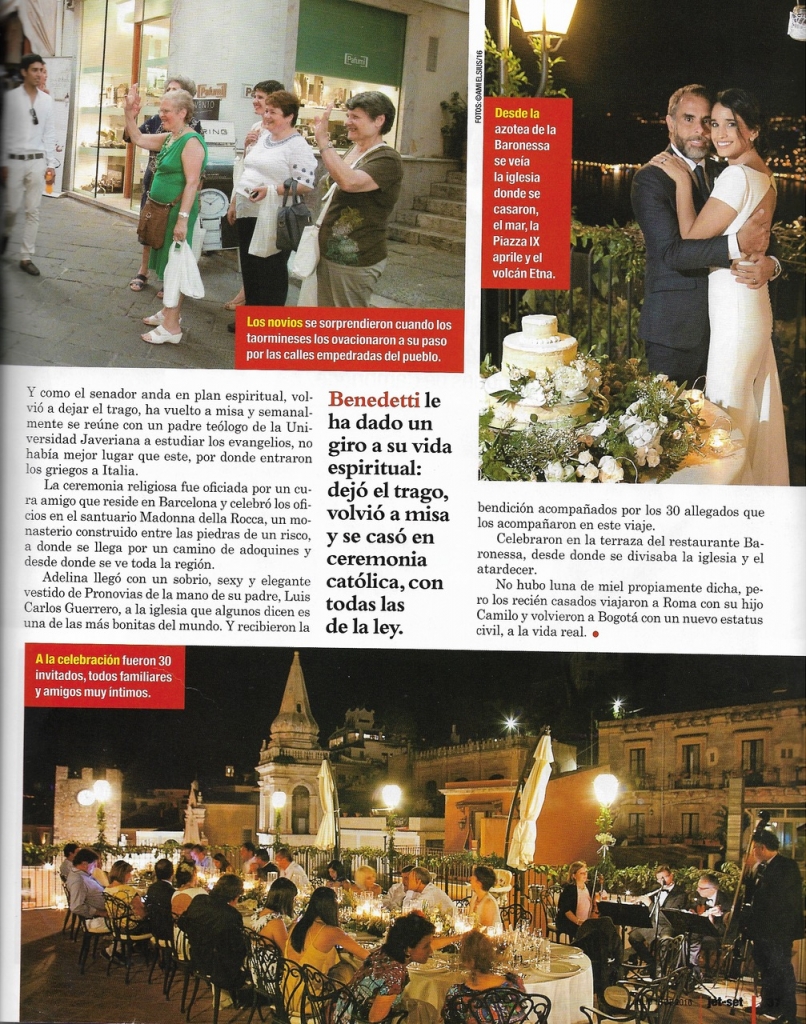 Photo Credit: Ami Elsius (http://www.weddingandportraitphotography.com/)
We are a couple from Colombia and when we decided to get married in Taormina (place we had never been before) I made some research online for a reliable and high-standard wedding planner and found the Taormina Weddings website. I immediately wrote to Mariangela and she responded very diligently and since day one we began organizing everything. She was very careful to make us feel very safe, for the planning was all done long distance and online, and we had never met her before. Mariangela found the most fascinating church (Madonna della Rocca) available for a Saturday and for the venue she found the Baronessa, which were both free for our wedding day, two months before the date! She also found for us a beautiful house for all of our family to stay. We were in contact the whole time, through emails and skype, I sent some pinterest pictures just to show her what I had in mind, and she went all the way and arranged for us the most beautiful wedding we could have never imagined and everything in two months! I never had anything to worry about with her in charge of the organization and I relied and trusted her with absolutely everything.
When we got to Taormina a week before, Mariangela was a wonderful host for us. We went step by step over every detail with the out most care. The results were outstanding, I really never dreamed of such a romantic wedding. Everything was fairytale like, very elegant and perfect. If there was in our mind a picture of a perfect wedding, Mariangela exceeded it in every possible way, we are still mesmerized by the dreamy wedding day she planned for us. Even our stay was wonderful in the city thanks to her and her professionalism, we felt her more like family than our wedding planner. Thanks to Mariangela we enjoyed and cherished every single minute of our stay in Taormina to it's fullest.
Fran & Chris ( July 2014) Australia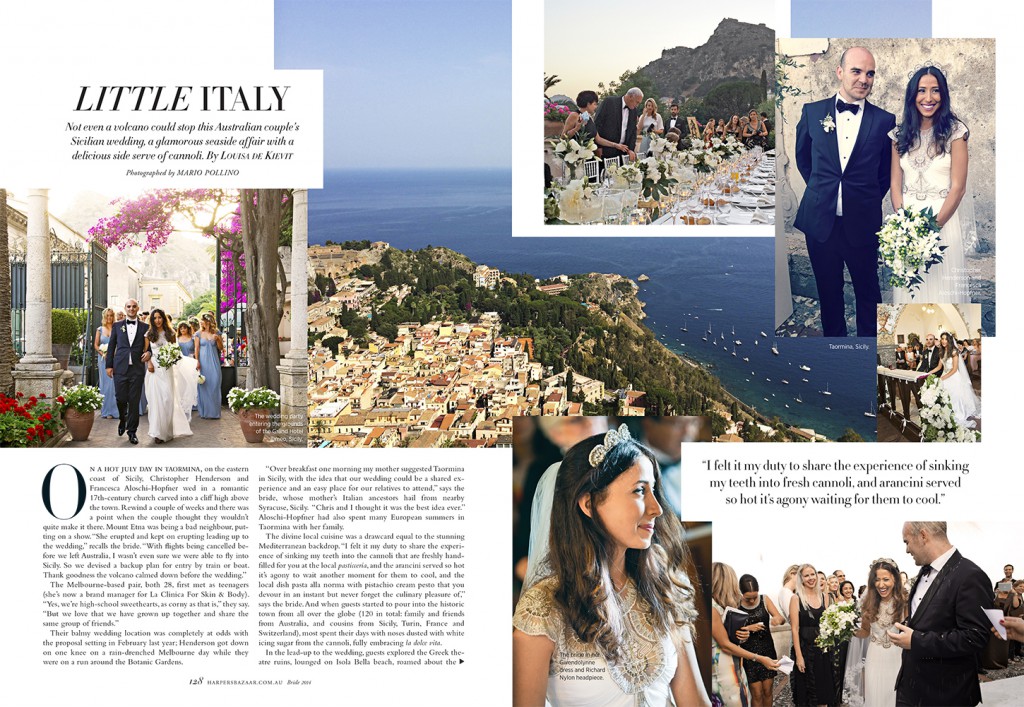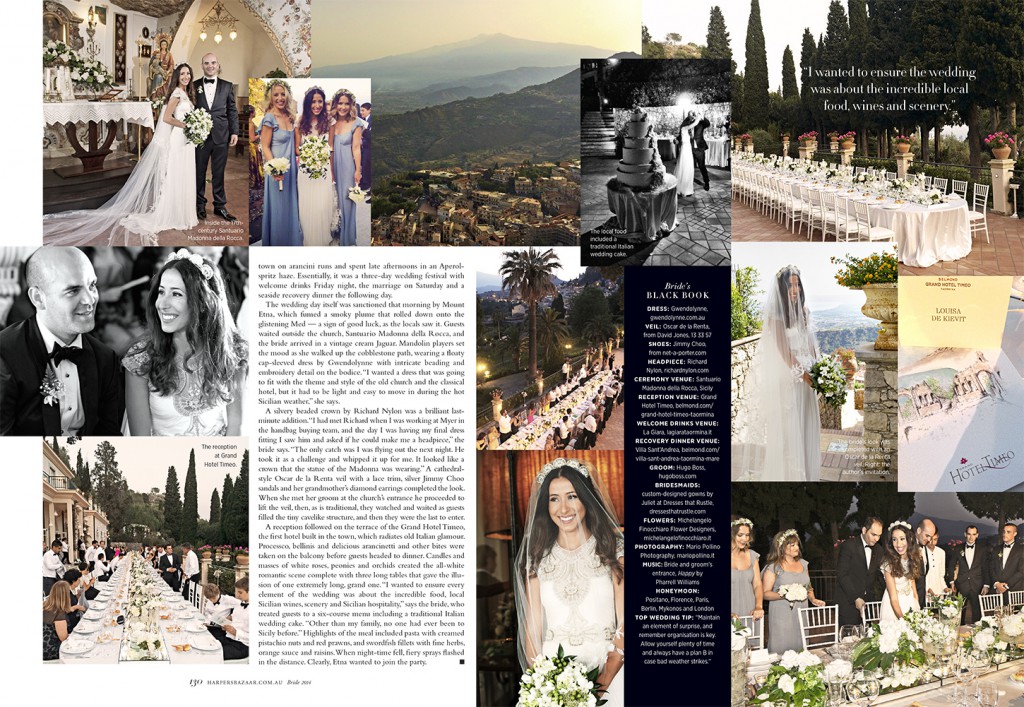 "Absolute Perfection!
A large majority of my wedding guests have never been to Sicily or Taormina before, so i felt it was my duty to ensure every element of the wedding was about the incredible food, local Sicilian wines and of coarse the breath taking scenery.
Mariangela did an absolutely incredible job in ensuring my vision came to life. I could not fault one aspect of my wedding.
As I am based in Australia most of my correspondence with Mariangela was via email. You never would have guested that we were in completely different time zones.
Thank you Mariangela, i could not have had my dream wedding without your help! I will be forever grateful to you xx"
Bianca Brigitte & Callum ( August 2014) UK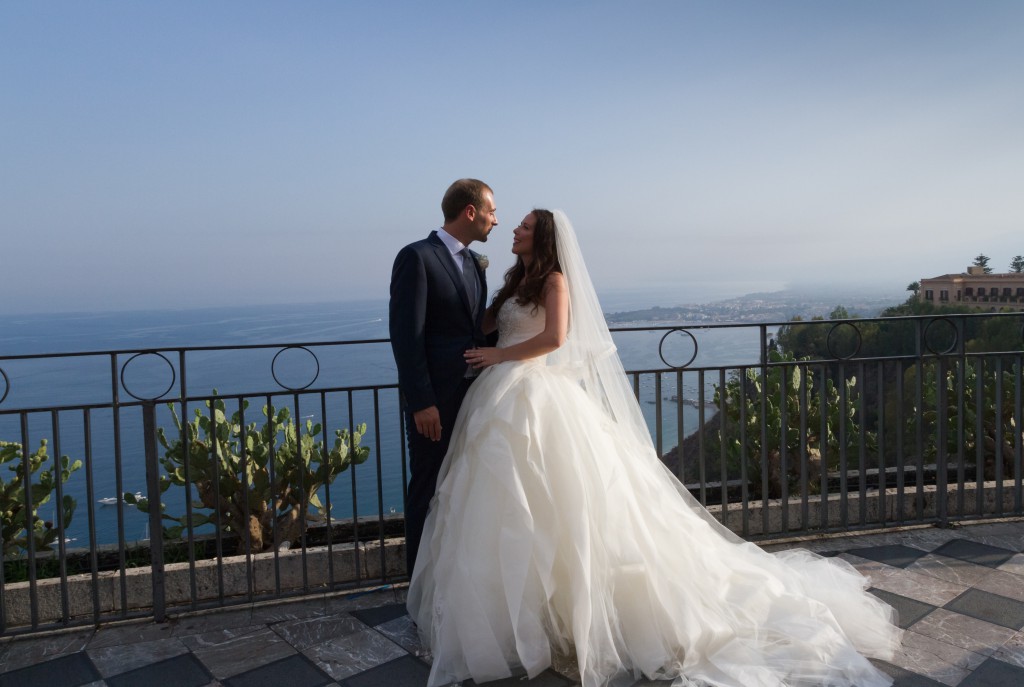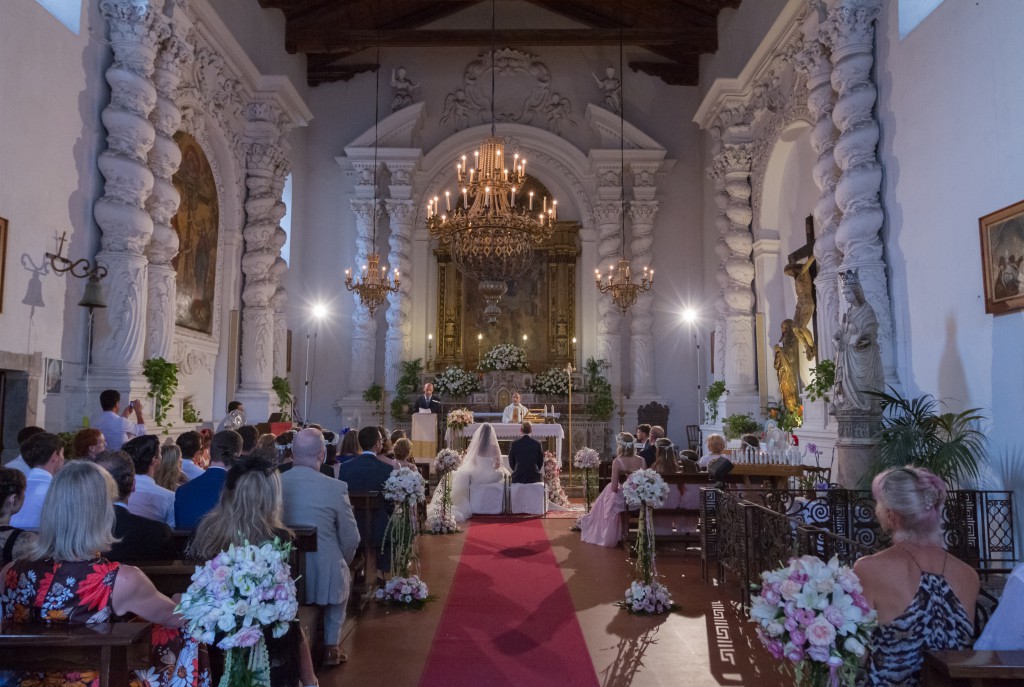 "From the very first moment I contacted Mariangela about my wedding, her professionalism and friendliness shone through. Her excellent organizational skills, considerable network of contacts and experience are unparalleled, whilst her warmth as a person really makes you feel at ease.
From big decisions about the setting, the menu and the timings to the smallest and most intricate details, Mariangela is ready to discuss an array of options and ideas. Her knowledge and openness make you feel that anything is possible. She treats clients as individuals and listens to exactly what it is they hope to achieve. She was able to take our hopes and dreams for our wedding and translate them perfectly into a beautifully curated event.
Our wedding was truly magical. Our guests had travelled from every continent to be with us on our special day and everyone was touched by the beauty of the location and the attention to detail at every turn. Mariangela remained at the helm and seamlessly oversaw all logistics meaning that my husband and I were free to enjoy ourselves with family and friends and celebrate the most wonderful day of our lives.
A wedding is such a deeply personal and significant event and it is so important to find someone that you can trust to guide you through the process. We feel incredibly lucky to have found Mariangela. Not just do we trust her implicitly, but we also respect, admire and get on brilliantly with her which means that we always felt we were discussing our important plans with an old friend rather than a stranger. Her guidance resulted in a day that we will both remember for the rest of our lives."
Stephanie & Riccardo ( September 2014) UK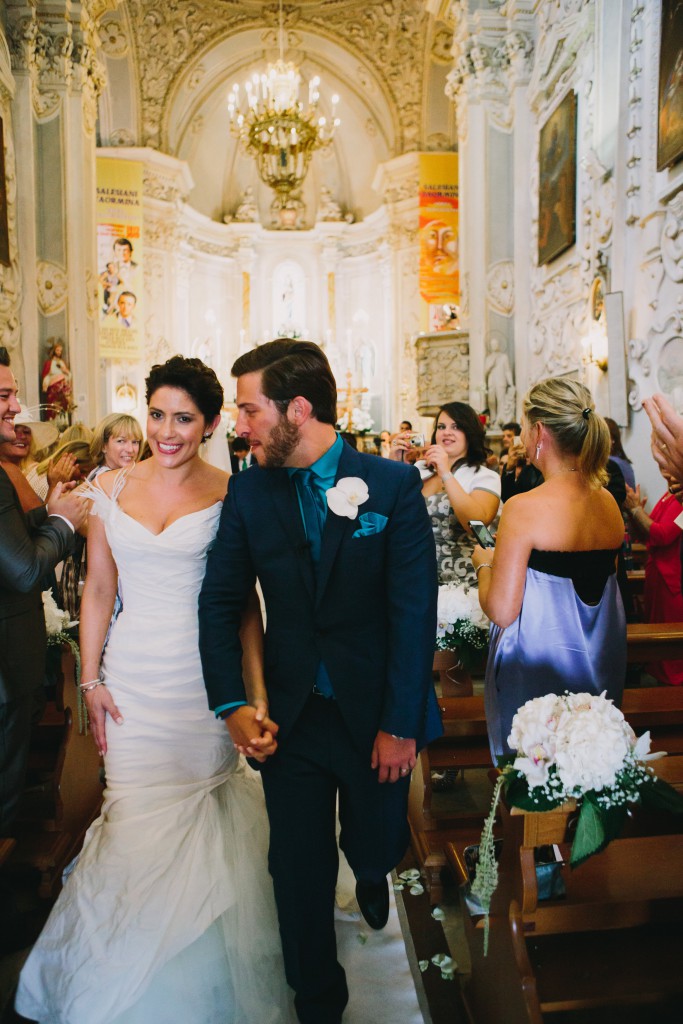 "Getting married abroad obviously worried us as we live in the UK and could not be in Sicily to plan every detail, but from the minute we met Mariangela, or Mari-ANGEL as we call her, our minds were set at ease. Not only is she calm and relaxed, she is extremely efficient and nothing is ever too much! Every detail of our wedding was perfect, from our beautiful flowers, to the stunning table settings.
To say our wedding was a magical fairytale is an understatement , and that is Largely to the Fabulous Mari-ANGEL! We are still pinching ourselves now as it all seems like an amazing dream.
If you choose Mariangela to do your wedding I can promise you this, it will be a day to cherish forever…"   Lots of love
Kamilla & Robin ( June 2014) Australia & UK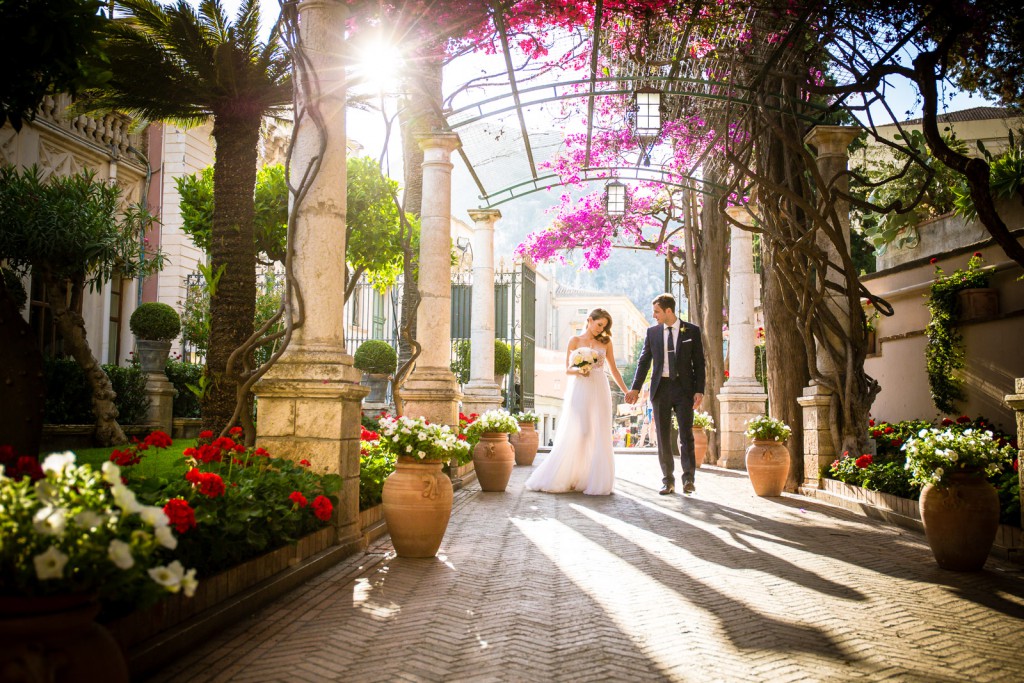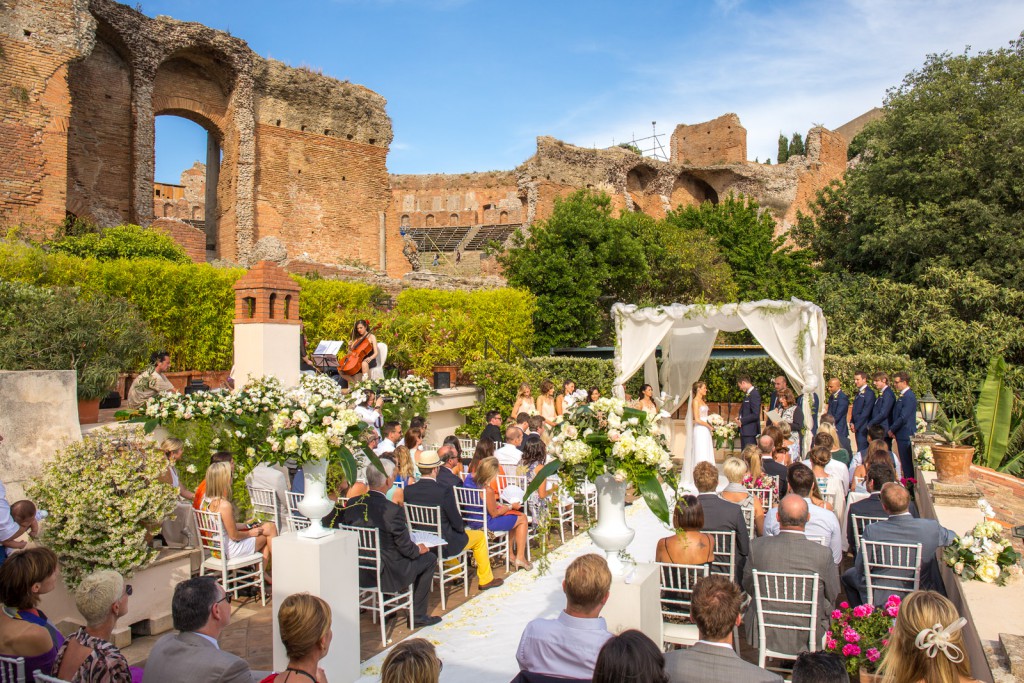 Photo Credit: Marco Ficili (https://www.marcoficili.it/)
"People tell you that your wedding will be the best day of your life, which of course you expect, but it was on another level! None of this would have been possible without the amazing, professional but personal care and attention from Mariangela. From the very start she made us feel safe but excited in her hands, we were able to adapt any part of the day to exactly how we wanted it – from the magical setting brimming with elegant flowers to the harmonious sound of the string quartet to the bespoke but authentic food and wine – nothing was ever a problem. Mariangela's years of experience in organising events and primarily weddings certainly shone through – her calm and collected manner made all the decision making fun and exciting as opposed to stressful or arduous, she kept us at ease throughout everything, especially on the day. We can't thank her enough!"
Camilla & Tony ( September 2012) USA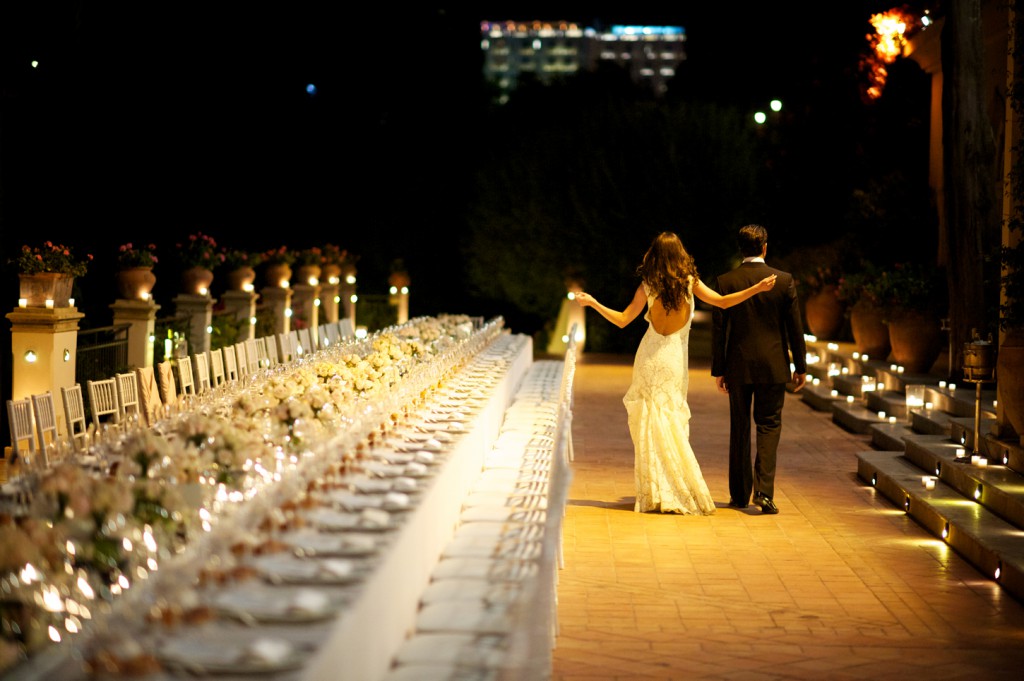 Photo Credit: Ryan Graham (https://www.ryangrahamphotography.com/)
"Mariangela's event management process has extraordinary precision with impeccable timing and the service that is so effortless that you don't notice it. Everything was perfectly orchestrated and handled with utmost professionalism and calm with the sole goal of creating an unforgettable experience.
Mariangela Spinella is an exceptional event planner. I was fortunate to work with her on my wedding in September of 2012. Having worked with many event planners in the past, I can confidently attest that Mariangela is truly in a league of her own. The level of detail and stress that goes into planning an overseas wedding is extremely overwhelming. And, we had to change the venue last minute, which gave us only 2 months to plan. Mariangela truly saved the day to deliver the most magical party. She has vast experience in event planning in Taormina and works with the best vendors. She is very calm and tends to your every request with such professionalism and patience of a saint. And, this is someone who has several weddings per week during the busy season. Mariangela executed my wedding after only one face-to-face meeting and few emails. Her suggestion to have an imperial-style table for a party of 70 people was brilliant. The wedding turned out to be a singular most glamorous and effortless affair. Our guests travelled from all over the world and many proclaimed that they have never been to a more spectacular wedding."
Phil and Natalie ( September 2014) UK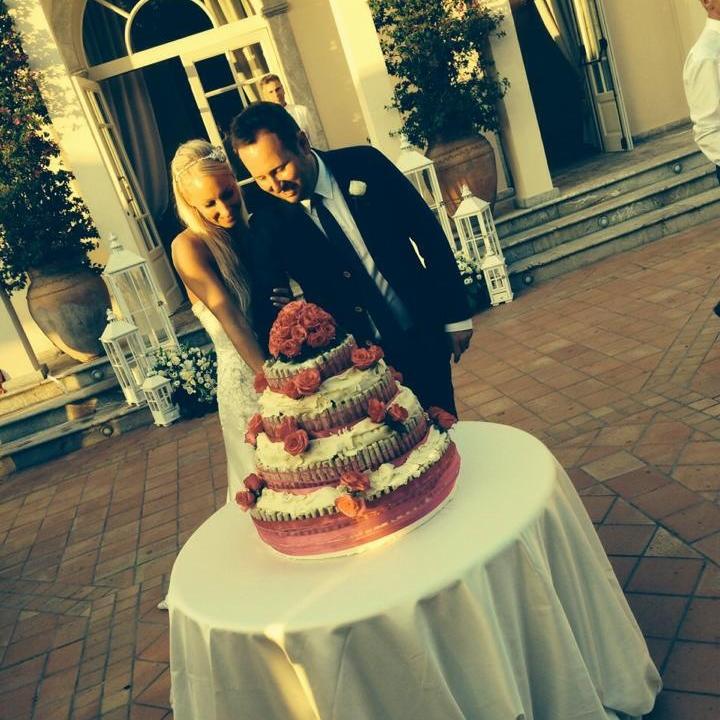 "Back in September 2014 myself and my now wife got married in Taormina, Sicily. We had always wanted to get married abroad and decided to travel out to Sicily in the April to look at potential venues. Having a few ideas in mind we looked at options we had researched prior to arriving in Taormina. There were a few good options but we were finding difficult to get the day we wanted as we found several places had many rules on when you would use the venue and how our wedding day would work. We were getting a little disappointed until we happened upon Hotel Timeo. The venue was fantastic but what really impressed me was on my first time of visiting the venue we were able to meet with Mariangela (the events coordinator) and nothing seemed too much trouble.
We had an initial meeting and everything we wanted was possible and Mariangela made us feel like our wedding was so important to her and she could sort any small details we wanted. This was fantastic for us as living in England and trying to organise our special day abroad did worry us a bit. However after our first meeting in April we decided to go ahead and book the Timeo. We then revisited Taormina that summer to sort all the fine details out. Again Mariangela spent hours with us making sure all aspects of our day were planned down to the smallest detail. We couldn't have been happier with how the meeting went and knew our day was going to be perfect!
Finally when our wedding day came in September, the whole day was exactly how we wanted it and we had no issues at all. I put this down to how Mariangela ran our day. She took a hands on role and was there to sort anything if needed. Any requests we made on that day were carried out to a top standard and our day ran like clockwork. We certainly felt that our day was 100% what we had planned and thank Mariangela so much for this."
---