Pre and Post Wedding Parties
Pre and Post Wedding Parties
Pre and post wedding parties are very important when organizing a destination wedding, since your friends and relatives are traveling internationally to be with you and celebrate your special day.
These events could be a lovely occasion to give your guests a special thank you for traveling so far and the chance to bring everyone together in a relaxed atmosphere.
A rehearsal dinner could be as formal or as low-key as you want and also a prime time for wedding toasts.
Examples of what we could organize:
-Classic sit-down meal in a local restaurant where you could try our distinctive Sicilian cuisine.
-Special wine tasting in one of the best vineyards in the area of the volcano Etna that will be combined with all the typical delicacies of our island.
-Sparking welcome cocktail in a glamorous, lovely and panoramic terrace.
-Fun beach barbecue under the stars overlooking the splendid protected area of the famous Isola Bella
-Relaxed buffet style dinner in a hotel or villa garden.
-Classic Italian "aperitivo" on a boat anchored in one of the bays below Taormina.
-Typical pizza party, with a selection of delicious pizzas in a great pizzeria in town.
Any bride knows that the reception flies by. But the last dance doesn't have to signal the end of the celebration. To prolong your wedding day and avoid to let the good times come to a close, we suggest you to have a dancing party after dinner in a club or a private ballroom, with a DJ and an open bar. It could be another chance to impress your guests with surprising details and personal touches.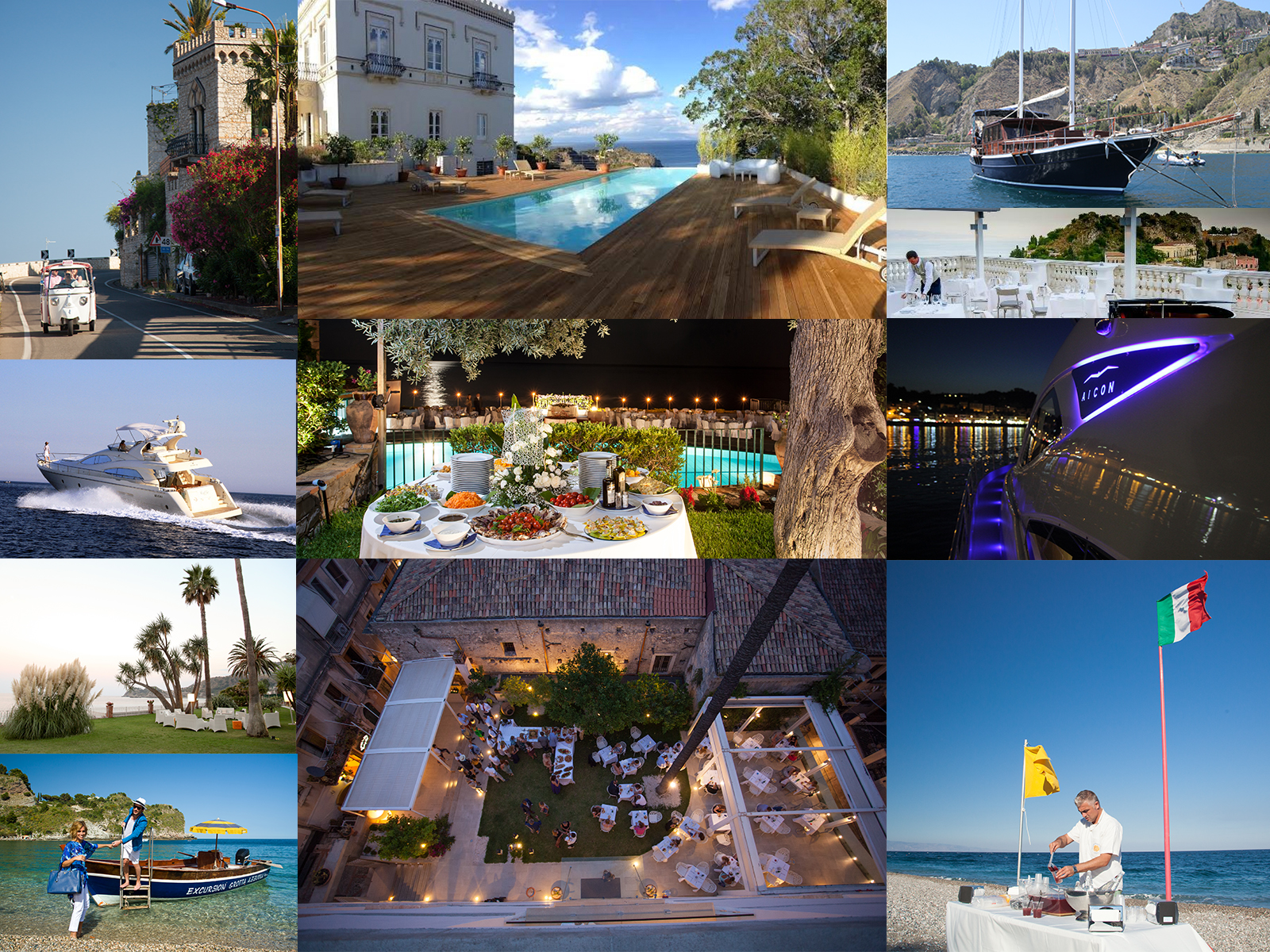 The day after the wedding reception:  it could lovely to end the celebrations all together with a lovely Brunch or savory buffet, a low key excursion or a day at the beach followed by an informal dinner the day after the wedding.
They will save this memories till the end of their lives and your wedding in Taormina will be the most memorable among all the presents.
So…. let's celebrate!
We recommend to hire a photographer for all the days you celebrate, even if it's just for a few hours the day before and after the wedding, to capture the magic moments of your friends and family together. A miniature album makes a great Christmas gift.
Let's see how we can make your dreams come true.
---