Why Taormina
Why Taormina
We can't imagine a more perfect place than Taormina to get married
Taormina is one of the most beautiful towns in the world, with its uninterrupted views over Mount Etna and the Ionian coast, with it's well preserved antique ruins and omnipresent cosmopolitan imprinting. The romantic and mythical atmosphere is found in every narrow medieval street and tiny passage, in every baroque church and Arab palace; in secluded gardens hidden by stone walls and terraces with breathtaking panoramas; in all the antique and high-end fashion shops on the bustling main street, the cosy restaurants, ice-cream bars and cafes.
The still in use 2000 year old Greek-Roman theatre is the symbol of the town, in which art and nature are combined as in no other site in the world. With its superb acoustics, the theatre is often used in the summer months for dramatic productions and musical performances during an international arts festival and from there, on rare occasions, everyone can admire the most splendid spectacle of nature: Mount Etna's nocturnal eruptions. With its red hot lava bursting out like champagne out of a bottle and then flowing down over its snow-covered slopes, leaving a glowing stream and a lot of steam in  its wake.
Taormina is a symphony for the senses and honey for the soul. Our town has enchanted famous poets, artists, writers, actors and movie makers for centuries and inspired many to create their masterpieces while here.
With numerous 5 star hotels, each with a beautiful view, a myriad of small intimate as well as grand churches, lovely places by the sea, lush subtropical gardens and antique palaces… You will not be short of choices nor inspiration for your wedding.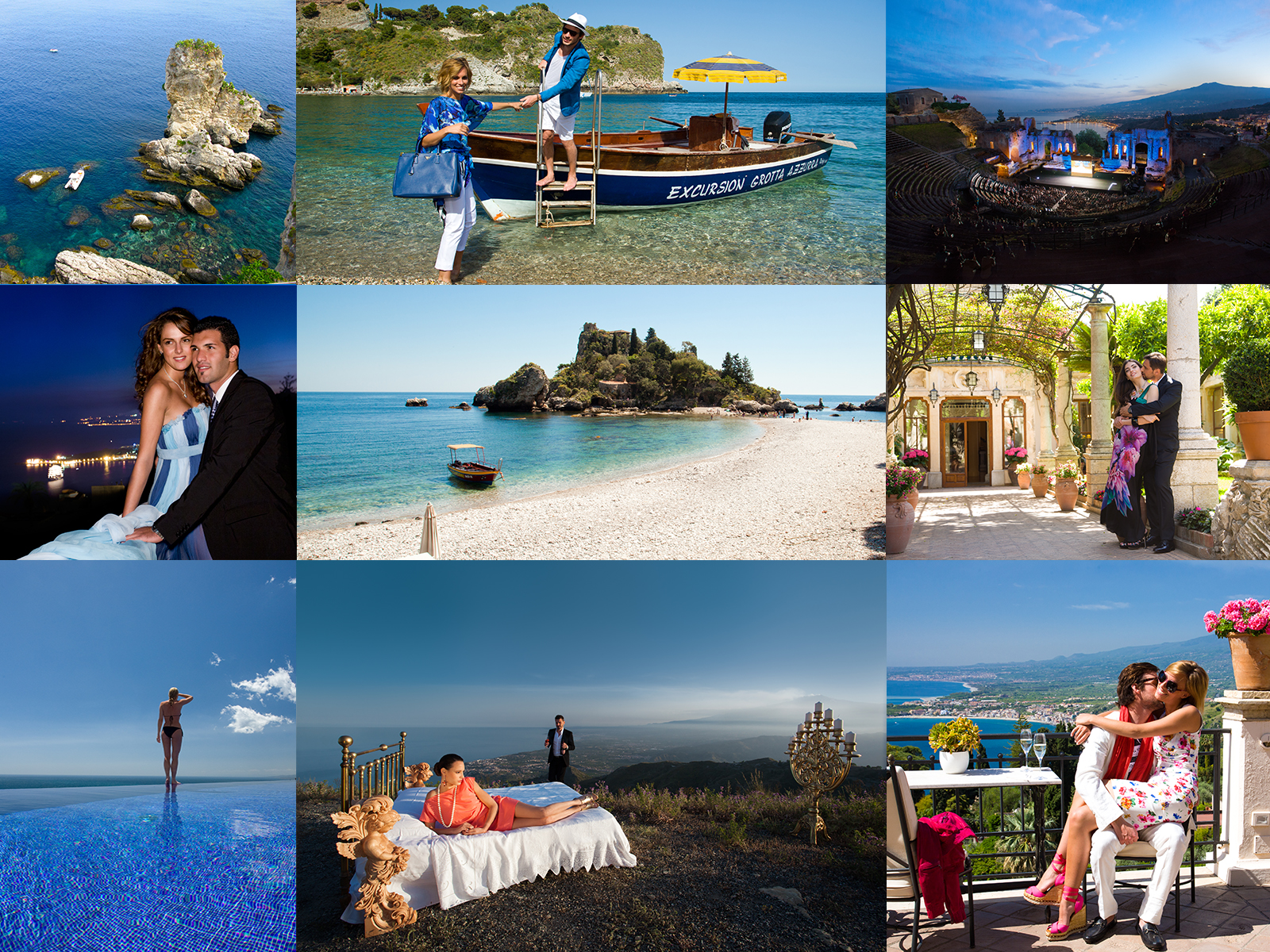 Just to mentioned a few that has fallen in love with Taormina:
Oscar Wilde, Richard Wagner, The English royal family, Thomas Mann,
André Gide, Wilhem von Gloeden, Aleandre Dumas,
Jean Cocteau, D.H. Lawrence, Christian Morgenstern,
Tennessee Williams, Truman Capote, John Steinbeck,
Somerset Maugham, Greta Garbo, Marlene Dietrich,
Joan Crawford, Rita Hayworth, Gregory Peck,
Cary Grant, Sofia Loren, Elisabeth Taylor,
Ingmar Bergman, Francis Ford Coppola, Marcello Mastroianni,
Federico Fellini, Richard Burton, Gustav Klimt, ect.
Let's see how we can make your dreams come true.
---